Matador is an Irish talent known globally for his stunning tracks on labels including Hot Creations, Crosstown Rebels and Minus.
Someone who was in constantly high demand before the COVID-19 lockdown, he had maintained a busy gig schedule playing events all over the world. Like a lot of artists, the last twelve months have been a dramatic and unexpected change in lifestyle for Gavin aka Matador.
Even though he hasn't been able to play gigs, Gavin has still put out numerous Matador releases including the most recent one on his own label Rukus called "Eightball".
Asking him about how he has managed to stay sane and cope with the frustrations of lockdown, Gavin told us about how his pet dog had helped him through this tough period with limited human contact.
Gavin is a passionate dog owner, and here is what he had to say about his beloved pet…
Matador: "I'd like to take this opportunity to speak about the unsung hero of my music productions, my ultimate studio partner – my dog Ollie."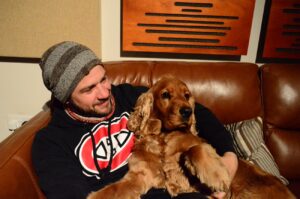 "He's a five-year-old cocker spaniel; bouncy, boisterous, and gives the best hugs. When I go on tour he's the one who misses me the most, and he's the one who gives me the biggest welcome home.
"Ollie came into my life as a tiny puppy and we've been best friends ever since. From his earliest days he's loved being in the studio, he has his own sofa where he curls up for long sessions. He keeps watch out the window for anyone approaching the house and is the gatekeeper of the studio itself. He had a brief obsession with audio cables, particularly red ones. I kept getting dropouts in the sound and spent a couple of weeks trying to figure out what the problem was – turns out he was lying under the desk chewing them! I had to rub a little tabasco sauce on them to make him stop (side note: also works on skirting boards!)
"I've recorded his vocals and currently working them into a track so he'll be a featured artist soon, watch this space
"We do everything together – he lies at my feet when I cook, he minds me when I have a shower, he runs alongside when I cycle my bike, and he thoroughly enjoys kayaking. But more than anything else in the world, he loves tennis balls. He would literally spend all day in the garden chasing and catching tennis balls. Every Christmas I buy him a box of 50, all of which he loses by the time the next Christmas rolls around. We took him on a staycation to Ashford Castle last year – complete with his own room service menu, hotel bed, and doggy amenities. He's truly a part of my family and is included in everything we do.
"Most importantly though, he has kept me sane during the lockdown. He's the reason I got up every morning (a furry alarm clock!)and he's instrumental in my daily routine. We had dogs in our family when I was a kid, but I never realised the importance of the bond between humans and animals until Ollie came into my life. He's taught me so much about unconditional love and has made me a much more compassionate and considerate person."
Matador's 'Eightball' EP is out now on his Rukus label, grab it HERE.