"Slower sounds a lot nicer" is a philosophy that shapes the artistic work of Gina Sabatini
Gina's downbeat and slow house sets are characterized by concentrated, hypnotic beats, down-pitched reinterpretations of increasingly beautiful classics and powerful bass lines, which gives her exquisite track selection even more soul. Paired with melodic sounds, spherical vocals and strolls through the slower side of underground dance music, she takes you into worlds that allow your senses to wander weightlessly for hours.
Based in Berlin, she's always on the lookout for new slow-motion treasures that will make your heartbeat 100 times faster than the music's BPM.
In addition to the 3.5 hour DJ set for Flow Sessions, she also took the time to run through a few questions about her mix and other projects…
Thanks for recording us a podcast, could you describe the vibe/energy were you trying to capture with your track selection?
I played this set at our first ost:end open air on a warm summer night in June 2021 in Leipzig. After three hard lockdowns, finally, we could do what we love again – create parties in sound and vision. For me, it was the first time playing in front of an audience for months and I could finally share the music I love with other people on a great sound system. That was such a big experience for me. For this gig, I wanted to mix tracks that got me through these crazy times and remind me of my musical roots – bouncy house music.
What's your favourite track in the mix, and did you play any of your own music?
My favourite track is called "Ichisichisichisichist" and is an instrumental version of "Die Fantastischen Vier" a legendary german hip hop group. Besides house and disco music my heart also belongs to German rap.
I have selected many songs from our young Iabel 'ost:end musik'. Since the beginning of the pandemic we have released two various artist compilations: one micro-house EP and a really strong female only EP by Yolanda Frei and Jane Ulé with a remix by our ost:end resident Chaos Katy, which I played in this set as well. As a DJ I play music from other artists and since I don't have much time to produce myself currently it feels like I can give something back in forms of my label work, which I really enjoy.
Sometimes I can't believe how lucky I am to work with so many talented people, such as my good friend Hannes aka JOIA who shapes ost:end musik with his own style of music and sound know-how like none of us: To only name one of them.
Talking of your own tracks, what's new in your release schedule, as we would love to know more about your new music?
Since me and my partners, Jonathan and Dennis all have the same passion for house music, it was an absolute dream of ours to make some house releases on our label. Therefore, we asked some great artists, whose music we liked, explored and supported during the past years, if they were up for a common project. And that's when the house release 001 was born. What I personally like a lot about the releases on our label is the fact that we don't just stiffly follow one direction, but that we offer a platform to many different genres and artists. Musical taste is versatile, so we thought, why not show that…
What do you think would be the perfect setting for someone to listen to your mix, and why do you think that would be the best place?
With some good friends at the beginning of a Saturday evening. It's good to get into the groove 🙂
Who is your personal favourite DJ, and how have they influenced your own style?
My good friend and b2b partner in crime kMIMIZAN.
Do you have a message for your fans or anything else you want to add?
Sommer, Sonne, Sachen-Anhalt <3
Podcast Tracklist:
Dop'q – Between Sorrow And Fun
Die Fantastischen Vier – Ichisichisichisich (Instrumental)
Moraze – Timeline (NTFO Remix)
ROSA – Monza (ost:end musik)
Silat Beksi – On My Own
Dubschmiftz – Axtre Rendet (ost:end musik)
Not Allowed – Ctrl+SQ – Bad Girl
Benny Grauer – Falling (Markus Homm Remix)
Hot Natured Feat. Anabek Englund – Reverse Skydiving
Entoniu & Agape – Trenule (Legit Trip Remix)
Pornbugs – Fiducia_(Mihai Popoviciu Remix)
Black Loops – E´z (Kyle Watson Remix)
NTFO -From The Trenches
Yolanda Frei & jane ulé – Der Grund (Chaos Katy Remix)
Dov'è Liana – Ecco la Notte
Tom Trago – Use Me Again (Carl Craig Remix)
La Fleur – Nightflow (Kenny Larkin Drama Mix)
Pier Bucci – Hay Consuelo(Samim Remix)
NTFO – Planetarium
—
Route 8 – Nowhere
—
Motor City Drum Ensemble – L.O.V.E
Phreek Plus One feat. Mr. White – Passion (DJ T. Remix Instrumental)
Ane Brun – To Let Myselfe Go (Dennis Ferrer Remix)
&Me – 1995
—
Modjo Band – Lady (Modjo's Dyrt Remix)
—
Fergie will.i.am – Fergalicious feat. will.i.am
Time To Sleep – Taramoto
Sans – Work it in Tokyo
Lutricia McNeal – Aint That Just The Way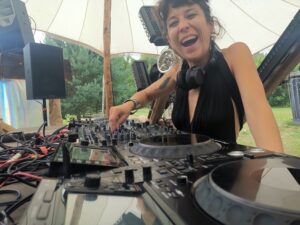 Cover Art – Jai Piccone