BLANCAh joins Flow Music for International Women's Day.
In celebration of International Women's Day, Flow Music has linked up with veteran Brazillian artist BLANCAh who's a DJ and producer has over two decades of experience. She has travelled the world as a headline DJ and her music has been released on labels ranging from Renaissance Records to Timeless Moment.
Along with an epic 3 hour and 33 minutes mix, she also took the time to share her thoughts and insight on how she thinks things have changed for women inside today's electronic music industry.
Hi BLANCAh, it's great to be talking with you on International Woman's Day, can you start by telling our readers what part of the world you are currently living in?
My pleasure! I'm living in Florianópolis, a beautiful island in the South of Brazil.
You are something of a veteran who has helped trailblaze a path for others to follow, have you noticed any recent changes in how many women are choosing electronic music as a career?
When I started DJing twenty years ago, I was the only female DJ in my town. Since then, I feel that more and more women are also going down this path. But what makes me really happy is to see a change in perception of how women see themselves in this scene. Because it is a predominantly male industry, I feel that some women have felt the need to fit with stereotypes. In the past I've often seen women focused more on aesthetics and beauty, selling their sexy appeal instead of only focusing on music.
Today, I feel that things have changed. All the gradual awareness of what it means to be a woman in the 21st century has allowed us to break many old paradigms, one of them being that we are not here to serve men, also that we are not objects. Among other things this allows us to focus on what really matters when it comes to art/self-expression, and in this case, through music. Now I see a lot of girls and women focusing on learning how to make music, and diving deep into this art/science that is composing/producing. They are in schools learning alongside men, they are diving deep into synthesizers, software and drum machines. So, today we are not only occupying more space in electronic music, but we are also growing and evolving alongside them.
What are some of the areas where you have noticed more of a female presence ranging from the dancefloor to the DJ booth and also behind the scenes?
In all areas. I see more women in music schools, going to events, running events, managing artists, and also doing logistical work at festivals. For example, I work with two wonderful women who are my bookers, Sally taking care of my international career, and Bruna is my manager here in Brazil.
Who are some of the female DJs and producers who are really inspiring you right now?
I first started to like electronic music after discovering TripHop then I started listening to dance music. I've always been a big fan of Faithless, and seeing Sister Bliss play a DJ set always makes me very happy, as she always inspires me with her capacity for renewal. Another artist I admire is Brazill's ANNA, as she has such an incredible story of determination.
Do you ever find that there is stigma or prejudice towards female DJs because of their gender even if it's sometimes accidental?
Yes sure, but honestly, I've never allowed myself to become a victim of this. My best response to any prejudice has always been to keep working, and overcoming all difficulties by not giving up. I always advise women not to waste too much time or energy focusing on prejudice… because prejudice is there, hanging in the air above everything. When we focus too much on it, it often drags us down, and we lose the ability to look beyond it.
I'd love to hear your thoughts on events pushing to make their line-up a 50/50 split between genders, do you think this is a good thing or should it only be the music that matters?
I think that we are on a constant and gradual path that's leading towards equally positioning women in the market. It's good that we are being given more space to showcase female talent, and it's only a matter of time and education for the numbers to become equally balanced. But honestly, I think the theme goes deeper than increasing our presence at events. The subject is quite complex and I think needs an approach that starts at home, as people's aspirations often start from childhood.
For example… How about we start being parents who teach their daughters to like the arts, buy musical instruments for their daughters, and listen to music with them. Encourage their daughters to sing, and make sure to encourage them. Give young girls technology and not just dolls, as from a young age it's important that they are capable of turning knobs, connecting cables and working electronic devices. Later in life, these girls could be a lot more interested in electronic music and other underrepresented industries. This is the point where we should really start trying to balance out the numbers, then one day we won't have to talk about "quotas" at events or anywhere else.
Talking about music, you have recorded us a rather splendid podcast, can you talk us through how you approached the mix?
I chose only songs that I love. There is no song in the 3 hours and 33 minutes that is there just as a filler. The entire sequence was thought out in terms of both mixing and storytelling.
How does recording a podcast compare to a live set, does it require any more pre-planning or is it just as spontaneous?
For me, it's all the same. I study my sets and spend a lot of time creating each one. I rarely improvise, as I like to have a well-assembled and coherent sequence. I like to be precise and know that there is a coherent flow between the tracks, and that's the same whether it's live or a podcast.
What's the perfect setting to listen to this mix, and do you have a favourite track in the set?
The perfect setting is anywhere that allows you to have 3 hours and 33 minutes available to listen from start to finish without a break haha. I'm in love with the second song, which is by John Talabot, and called 'Aria III'. There's also a new song from Patrice Baumel called 'Six' that is just stunning.
Did you play any of your own productions, and do you have any new releases on the way?
Sure, the third track in the mix is mine, it's called 'Axis' and is the one that starts with the sound of birds. Later in the mix, I played a track called 'Sensações Mínimas' which is from my album Arias Of Sky. I also played 'Signs of Bliss' plus my most recent released 'Terracotta' that came out in January 2022. Right now, I'm working a lot in my studio, and I spent the entire pandemic studying to improve my music production skills. I have a lot of songs ready and a lot of release plans for this year.
Thanks so much for taking the time to talk with us, is there a message for fans or anything else you would like to add before we finish?
Thank you for the opportunity to talk to you and your readers. My message is very simple… be kind to yourself and the world.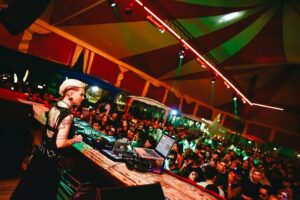 -Artwork by Jai Piccone-