Flow Sessions welcomes Istanbul-based Aleksandir for a breakbeat mix with deep vibes and timeless grooves. 
Flow Sessions strives to support musicians, producers and DJ's in good times and bad. With this is mind we have commissioned DJs around the world to contribute mixes to our new series 'Flow sessions'. We thought it would be appropriate to show some support for our future performers now when it's needed most.
Aleksandir (Alexander Lawrence) is an Istanbul-based DJ and producer. While at university in the UK, Aleksandir received an extracurricular education in dance music via Bristol's club scene, quickly becoming adept at distilling the remains of a night out into hushed strains of house back in his bedroom studio. Adopting the transliteration of his birth name into his native Turkish as his moniker, Aleksandir's first release came in the form of a mellow excursion on Blind Jacks Journey entitled 'The Turtle Nipper' (2016), followed by a deeper dive into the heads-down part of the dance with the 'Contrails' LP (2018), on Seb Wildblood's Church. His breakout hit 'Yamaha' (2018) on London imprint Tessellate, meanwhile, hinted at a more club-ready sound. Inspired by the galloping arpeggios of Nordic disco heard on a formative weekend at Club to Club Torino, 'Yamaha' became an overnight hit and snuck into the big room via heavyweights like Dixon and Tycho. 2019 saw Aleksandir explore peak time with the 'Hard to Explain' EP (Artesian Sounds), spiked with electro, breakbeat and auto-tuned vocals taking cue from The Strokes. This year, the producer and DJ hit the road far and wide, including a North American outing, multiple festival appearances throughout Europe and an upcoming Australia tour. When he's not noodling on Logic or nudging the jog wheel, Aleksandir co-pilots the Artesian Sounds label with Emre Can Swim and co-curates the MİKS nights with Supu in Istanbul.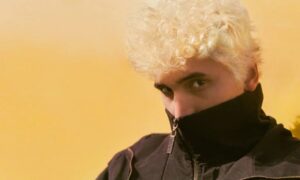 Aleksandir.
https://www.instagram.com/aleksandir.wav/
https://www.facebook.com/aleksandirmusic
Cover Art – Jai Piccone