Flow Sessions once again shines a spotlight on the underground club scene of Australia, and welcomes Quackers who is one of Byron Bay's most talented live electronic artists.
Flow Sessions strives to support musicians, producers and DJ's in good times and bad. With this is mind we have commissioned DJs around the world to contribute mixes to our new series 'Flow sessions'. We thought it would be appropriate to show some support for our future performers now when it's needed most.
Words from the artist
I believe that what's important for this world is that we listen, share and give back to our communities, Flow Music is doing exactly that, it's giving artists a chance to be heard in a time that's more important than ever, with that in mind I performed my set with the intention to connect people with their surroundings and be present in the moment, to feel entranced and free of anything which holds you back.
My live set is based around the idea of reflecting the energy of the audience and the environment to create an experience that will never be the same twice, in able for me to do this I perform with instruments such as the guitar, saxophone, drum machines, synthesisers and sequencers.
This gives me the complete flexibility and freedom to express myself and capture the moment.
I hope you all enjoy it as much as I did, lots of love!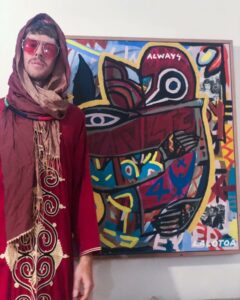 Quackers.
https://www.instagram.com/quackers_livemusic/
https://www.facebook.com/quackers.livemusic/?modal=admin_todo_tour
Cover Art – Jai Piccone