Flow Sessions presents an epic mix of techy melodic house with jazzy tones from Götzlich
Flow Sessions strives to support musicians, producers and DJ's in good times and bad. With this is mind we have commissioned DJs around the world to contribute mixes to our new series 'Flow sessions'. We thought it would be appropriate to show some support for our future performers now when it's needed most.
A message from the artist
"I am absolutely thrilled to have this opportunity to be on board the very promising platform of Flowmusic. I can feel the pure love which is behind this concept, and it is surely one of the most positive things which have happened in these rather tricky and overwhelming times. The concept of creating a 3hr 33 min mix awoke my excitement of blasting music to the masses, and I expected it to be easy as I love to play long sets on parties. But as this is a set mixed in the studio and will be mostly listened to at home, in the car, or in the background, I started to overthink it and it became a challenge. So, I began to revive my whole music archive. Beginning with my vinyl collection, which I started in the 90's and goes right up to date, then dusting off my immense amount of CD cases and then over to the modern digital formats. It was truly an awesome process and a memorable journey. I found so many forgotten pearls, of which some have found their way into this mix. My hope is that this music will positively distract you to go with the flow, for the next 3hr33min.
Thanks to Corr and the Flow Family for having me.
Peace & Love, Götz aka Switchbox"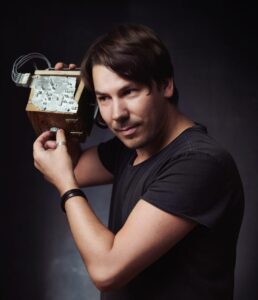 Götzlich (Switchbox).
SoundCloud: @goetzlich
Facebook: facebook.com/Switchbox-486870155467
Instagram: instagram.com/switchboxed/
Cover art: Jai Piccone