Flow Sessions is proud to present a super eclectic mix from SAGAN who takes influence from an endless number of styles including electro, acid, disco, house, techno, noise, and punk. 
Flow Sessions strives to support musicians, producers and DJ's in good times and bad. With this is mind we have commissioned DJs around the world to contribute mixes to our new series 'Flow sessions'. We thought it would be appropriate to show some support for our future performers now when it's needed most.
A message from the artist
"333 is the number of creative self expression, dynamism and inspiration. This mix is the key to the depths of my essence as an artist. It is the perfect sample of everything that keeps me evolving and always changing. Here you will find my roots, hear my raw inner self and have a broad overview of my continuous research.
333 signifies the presence of Ascended Masters. As you may or may not be aware, this year many inspiring souls crossed over to the other side, becoming immortal and leaving a bitter void on this side. I wanted to make my own tribute to thank them for being part of the music as we know it today, but especially for shaping who I am today.
333 can also symbolize the past, present and future. 3 years ago I stopped being only a selector and decided to become a communicator: the common thread and pathway between the masters and the receivers. Back then, I started performing at a very slow tempo, and nowadays I feel excited by playing faster. This set shows the 3 years of my career, with the leadership of my influences, from punk to synth-wave, from electro to acid, from techno to disco. Expect metallic snares, bad-ass kicks and hectic hi-hats that illustrate my passion for rough drums.
333 has a lot to do with inspiring others, encouraging the creative side, enticing with creative scenarios that may be attained. I wanted to show you my purest side: creating contrasts with different kinds of atmospheres, bringing together my all-time favourite music influences–the Ascended Masters– past, present and future to make them converge and perhaps inspire you. Enjoy!"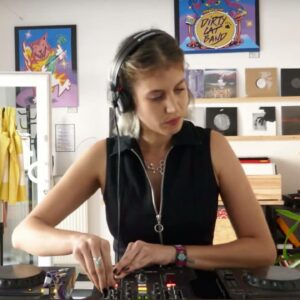 SAGAN.
SoundCloud: @sagancosmosmusic
Facebook: facebook.com/SAGANMUSICA
Instagram: instagram.com/saganmusica/
Artwork: Jai Piccone