Flow Sessions welcomes Berlin legend Heimlich Knüller who delivers an earthy mix of melodic house that's rich with percussive textures.
Flow Sessions strives to support musicians, producers and DJ's in good times and bad. With this is mind we have commissioned DJs around the world to contribute mixes to our new series 'Flow sessions'. We thought it would be appropriate to show some support for our future performers now when it's needed most.
Heimlich Knüller graces Flow Sessions 028, generations of ravers have had their spirits lifted by this incredible performer. We were lucky enough to have Heimlich play at our inaugural Flow Event at The Sage Club In Berlin, look out for the footage. We look forward to the artists description once it is translated from German… Thank you Deep. This mix starts almost in a folky vein but at 45 minutes really gets into its groove. You will absolutely be captivated but the sheer talent and imagination that is H.K.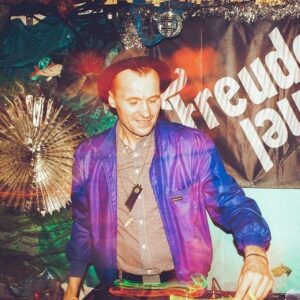 Heimlich Knüller. (@heimlich-muller)
Facebook: facebook.com/heimlich.muller
Instagram: instagram.com/heimlichknueller_inoffiziell/
Cover art: Jai Piccone