Flow Sessions welcomes a mix from Deer Jade whose groovy melodic music will take you on a mystical journey through time and space.
Flow Sessions strives to support musicians, producers and DJ's in good times and bad. With this is mind we have commissioned DJs around the world to contribute mixes to our new series 'Flow sessions'. We thought it would be appropriate to show some support for our future performers now when it's needed most.
A message from the artist
✨Thank you so much for boarding this journey all together, it was such a great pleasure to create this mix for Flow sessions! I enjoyed the opportunity to create a slightly longer mix than usual, 3 hours 33 minutes and 33 seconds, to be able to surf all kind of waves from all corners of the galaxy, getting lost in the story… until time ceased to exist! Together we surf the infinite wave of eternal bliss! 🙏
✨ I've mixed together 48 tracks of fresh music I've just received along with some of my all time favourite tracks, truly hope you enjoy the ride!! Looking forward to be dancing together somewhere around the world soon, sending much, much love your way!!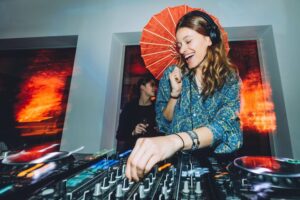 Deer Jade.
Deer Jade: (@deerjade)
Facebook: fb.me/deerjadee
Instagram: instagram.com/deerjade_
Artwork – Jai Piccone