Frontman of The Prodigy, Maxim has teamed up with London based artist Dan Pearce to create a new project that combines a four-track EP of music, and an art installation they have called 'Hope'.
They first revealed the project on the 19th of May to a VIP viewing at London's new 99 Projects gallery, but between now and the 7th of June the installation will be open to the public.
Accompanying the music and sculpture based art installation is a short film curated by the pair. The film features Dan Pearce's son and Maxim, and is soundtracked by some of Maxim's new music.
Along with his music, Maxim is also an artist and he created 50 limited edition sculptures with Dan Pearce during the lockdown period. It's intended that their Hope project will tell the story of pandemic life, and highlight some of the struggles faced by many throughout the tough period.
Dan Pearce said on the project: "We've known each other for a few years as we both exhibited art at the same galleries and attended each other's exhibitions, so we always chatted about doing a collaboration.
"Lockdown gave us that opportunity and we wanted the project to deal with this difficult year, while demonstrating the positive message about the role hope now plays."
The pair have announced that some of their sculptures will be donated to charitable causes, presumably so they can auction them as part of fundraising initiatives. Charities being donated a sculpture include NHS Charities Together, as well as the mental health charity YoungMinds and homeless charity Shelter.
Maxim says, "Making this has been so exciting. We are in times of uncertainty, but I believe the answer to our problems is the four-letter word, 'love'."
This news comes shortly after The Prodigy revealed a 15-second clip of them working on new music, which was the first publicly available audio of new music since the death of their former member Keith Flint.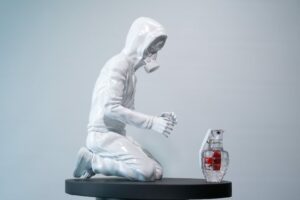 H/T: Mixmag