Budakid has released his melodic style on labels ranging from Einmusika Recordings to Diynamic.
Based in Berlin but Hailing from Tilburg in Holland, Budakid is the music alias of Kevin Huizing who started out as a drummer, and this love of rhythm soon drew his attention to electronic music where drums are a tracks most important element.
First came DJ'ing and it wasn't long before he had a residency at a prominent club in Utrecht, which is a Dutch city that neighbours Amsterdam. Not even eighteen years old, he was playing to a dancefloor packed full of people twice his age and this is where the maturity of his music taste was first showcased.
Getting older, a love of DJ'ing lead to a logical next step of making his own tracks and he taught himself music production. From his early releases, he started to pick up regular support from top club spinners, fans of his tracks are people such as Sasha, Oliver Schories, Einmusik and Guy J.
Years later, he is now one of the most exciting melodic house and techno talents with an impressive back catalogue including some of the world's most respected record labels.
Words from the artists: "In the moment of the unknown, I am trying to guide you through a new realm of music and sound. Showing you tunes that are not only meant for the club, but also some that allow you to lay down and relax. A journey with peaks and lows, but all characterised with a gentle cinematic touch." – Budakid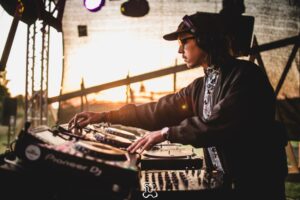 Soundcloud: @budakid
Facebook: www.facebook.com/hiimbudakid
Instagram: www.instagram.com/budakid/?hl=en
-Artwork by Jai Piccone-