Stephan Bodzin, Gerd Janson and Ben Klock are announced to play 'Smalltown' at Port Melbourne.
The heavyweight line-up will take place on Saturday the 26th of March at the former Holden factory, which will provide the perfect industrial backdrop to the music.
Ben Klock is the famed German DJ known globally for his residency at Berghain in addition to his many top-selling releases on highly influential record labels.
Stephan Bodzin is an icon of the melodic techno genre whose live sets are the stuff of legend, and his return to Australia has been much anticipated.
Gerd Janson's disco-tinged style provides a perfect contrast to the techno of the other headliners. His sets are known for their uplifting vibes, and whether he is on first to get the party started or providing a back-room alternative to the slamming techno of the main room, you know it's going to be something special!
There will also be support from local DJs Yarra and Marli, and the event's stage and lighting design are from Studio John Fish and Funktion One Sound.
Novel are the promoters running this event, and they have promised that attendees can expect a fully immersive experience with the same level of production as their Let Them Eat Cake festival.
Tickets are on sale now and can be found HERE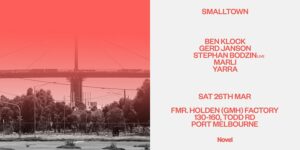 H/T: Beat