Dj and Producer Sabo's sound is inspired by his extensive world travels and will take you on a mystical journey that crosses several musical borders.
William Sabatini, aka Sabo, is a staple in the global dance music community. Heavily influenced by a multitude of cultures from around the world, Sabo's sound holds much of his intrigue.
Sabo's productions take you along a journey into sound, a sonic landscape that crosses several musical borders with mixtures of tropical poly-rhythms, warm bass frequencies, rich percussion, lush tribal vocals, and smooth organic textures. When listening you will undoubtedly find yourself resonating with his intention, imagining yourself dancing in an Amazon rainforest or on a desert plane for a Saharan sunrise.
Behind the decks, his innovative approach to each DJ set makes him a consistent stand out at Festivals like Coachella, Lightening in a Bottle, Shambhala, Fusion, and Burning Man.
As a label boss, he is known for his dynamic vision – heading up his imprint label Sol Selectas which is successfully re-defining a new vein of dance music. Sol Selectas is one of the best selling labels on Beatport, with almost every release breaking into the Top 10 charts of their respective genres.
The label captures a wide array of sounds, enlisting up and coming underground producers from all over the globe, as well as prominent well-known producers in the industry, focusing the sound on deep spiritual dance music, guiding its listeners into the future realm with positive intention.
A message from the artist
"It really is an amazing moment to have one of our most respected artists for Flow Sessions, as it also reflects our focus expanding to other parts of the world and we are so happy to have the West Coast Vibes from the inimitable Sabo! Words from the artist: "This mix is very special to me and I'm really excited to share it. This was recorded in Bonjuk Bay, Turkey, back in September 2020 for the ICBKR event. It was my first time DJing to a live audience in over 8 months. The setting was perfect – a beautiful warm sunny day on a gorgeous beach in Southern Turkey, and while the sun began to set, a nice little crowd of happy dancing carefree souls gathered in front of me. It felt so good to take people on a musical ride again, and to feed off their energy. I was really feeling the vibes and went deep into my crates playing lots of feel good classics I hadn't heard in years. At one point during the sunset I literally started to tear up, as I finally felt FREE again. This was hands down one of my favourite sets in all my 25 years of playing records. I hope you enjoy the story, and please remember, happiness and dancing is the best medicine for a healthy life."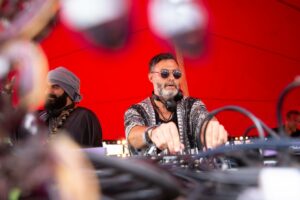 Soundcloud: @djsabo
Facebook: www.facebook.com/SaboFanPage
Instagram: www.instagram.com/djsabonyc
YouTube: www.youtube.com/user/sabonyc
Twitter: twitter.com/djsabonyc
Cover Art – Jai Piccone