Christopher Brooks is well-known for his sets at Australian festivals such as Rabbits Eat Lettuce, Elements Festival and Earth Frequency.
Christopher Brooks is an Australian artist who is currently based on the Sunshine Coast. Well-known on the country's festival circuit, he is part of the Love Camp crew which has become famous for its sit-down DJ sets on a red velvet sofa.
He is a talented DJ whose style transcends many genres and although the core of his style is melodic house/techno, he also plays both ambient and harder sets when the moment requires it.
An incredibly talented producer who worked with labels such as Frisson Records, Pocketmoth, Open Records and Late Night Music, this epic 3 hour and 33 minute DJ set comprises of only his own productions.
Flow Music will always have a special place in our hearts for Christopher Brooks after he played one of our events earlier this year and this podcast is almost as magical as that set.
Like a true gentleman, he also took the time to answer a few questions and let us know more about his background both in and outside of music…
How did you find the format what was the vibe/energy you were trying to capture?
This mix contains 100% original content, 27 originals, 5 collabs, and 9 remixes. There are 18 released tracks and 23 unreleased tracks, most of which are more or less just ideas, unfinished tracks and sections of recordings from my toured live sets over the years that I never planned to release, content that is now perfect in its imperfection. In fact, a lot of this content hasn't finished being mixed or even mastered and is more so being delivered in the form of a live set with lots of extra layers and experimenting.
Because of this unique blend of show and tell, there's a real charm to the whole journey and vibe this mix holds. Some of these tracks, sounds and ideas date back years and some are more recent. I wanted to create a continual flow and progression moving through themes and slowly shifting upwards toward a final crescendo featuring some of my heavier bush techno flavours. You'll hear how certain sections have themes and hold a vibe that is clearly made from the same sound palate, this has made for some very seamless transitions and storytelling. This along with the extra live elements, percussion loop layers and embellishment effects has resulted in a very full and conjoint mix. This mix is like the portfolio of a lot of my music and showcases the diversity and fusion of styles I like to create. What is annoyingly funny, is that while putting this mix together, I realised I have a whole other 3 hours and 33 minutes of original music that I couldn't even use/fit into this mix. So, whenever Flow Music want me back I'm ready to go for round 2 on an all-original 333 sessions mix!
Tell us how you first found your love for music, electronic or just in general?
I must have found my love of music from my Dad and my Brother. My earliest memories include them hyping up certain songs or bands that they loved so there was always music being played in the house or car. I was exposed to a wide array of music from a young age and was always encouraged to enjoy it whether it be for fun or more serious listening purpose. I didn't understand it like this back then but I always observed and listened closely. By the age of 4, I had a little stereo tape player and would gather all my toys and teddies in a circle to play music off cassettes to my beloved crowd of toys and teddies.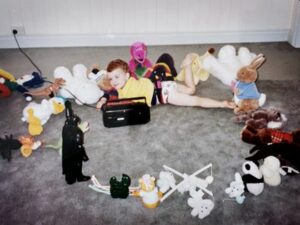 This led to me figuring out how to record on cassette tape. I'd get blank tapes to could record my own pretend fake radio show with my voice and introduce music I liked. I think I was always destined to become a DJ and play music to people if this is what I was doing at such a young age. I have always been very eager about music and interested in how sound works. I learnt heaps of instruments over the years at school, like; double bass, violin, clarinet, trombone, drums, guitar and piano. Mostly stuck to playing the drums, and then became obsessed with wanting to be a drummer in a heavy metal band. I had a massive drum kit by the age of 14, and at that time I was listening to heaps of heavy metal, new metal and black metal. But I was also getting into electronic music more and more, which I think started to grab my attention from movie soundtracks with music from big artists such as Moby and Groove Armada etc, as well as just stuff my brother would play. It was around 2004 that my brother was super into electronic music and was exposing me to lots of trance music, in the years to come he was showing me house and electro, and he became friends with a lot of DJs. There were always DJs at my home and they started showing me progressive house, techno and minimal, so from an early age, I was quite averse to the wide array of music and niche genres electronic music has sprouted. One of my brother's friends showed me how he makes electronic music using Logic Pro and Ableton on the computer, and I remember being blown away that in these programs I could create music all by myself, and didn't have to rely on band members. By the age of 16, I had sold my beloved giant drum kit to buy studio monitor speakers and decks so I could learn to produce my own music and DJ. After that, the rest is history…
Who are some of the artists that inspire you and how have they influenced your own style?
This is such a hard question to answer as there are so many artists to have influenced the style of music I create. I would just say in general that genres like minimal, house, progressive and techno have all left me with sound stamps that I use across my productions. As for artists, some key producers to have majorly influenced me are Robert Babicz, Guy J, Maetrik, D-Nox & Beckers, Pig&Dan, Trentemoller, Gui Boratto, James Zabiela, Henry Saiz, Oliver Huntemann, Stimming, and Dubfire. Their early music has definitely shaped my taste and style.
The places we grow up in, various locations and cities can have a powerful effect on our creative energy. Tell us more about where you grew up and how it may have influenced your sound and direction? 
Growing up between Brisbane city and Kingscliff beach, I developed a love for both the city and beach life. I then lived in Melbourne for 5 years then realised I missed being by the beach and now I live on the Sunshine Coast. I love being near the beach, as it brings out a really healthy lifestyle for me, and there's a certain energy around the ocean shores that really resonates with me, which definitely adds to my creative output.
You are often found playing at the Love Camp renegade stage on the Australian festival circuit, what's with the Love Camp concept of DJing sitting down on a couch, I'd love to know more about it?  
Being a part of Love Camp is so lovely. We are like this little big family where we all have different roles and ways we add to the overall project. Huge shout out to Jade, Leo and Butterz, as they are the people that really make it happen, and without them, it really wouldn't be what it is today. We've all had some really incredible times and parties together. We aim to create a very cosy, fun, safe, welcoming and colourful space to chill in, with couches, ping pong, mini golf and of course a dance floor to boogie on. Our story/concept of DJing sitting down on a couch simply started at a kick-on where Butterz and I set up the decks on the balcony coffee table. We sat on a pile of pillows and had about 15 people surrounding us while we DJed for the rest of the day and night, it was such a fun vibe sitting down with everyone, and we joked about how it would be cool to do for Love Camp. Then at Elements Festival Winter and Summer 2021 we ended up running the late hours of the morning sessions at Love Camp. We decided to set the decks up in front of a couch so we could DJ sitting down and chill like everyone else sitting in the Love Camp tent. Then at Rabbits Eat Lettuce 2022, Butterz set up the DJ booth with our famous red velvet couch on a stage. It was this sorta brilliant vibe having all these top DJs coming to play crazy sets to a heaving love camp dance floor, while sitting down on this thrown-like couch. It instantly became a hit, and now it has properly been done at Rabbits Eat Lettuce, Earth Frequency and Jungle Love 2022. We can't wait to be set up at Elements Festival in October. Love Camp's vibes are so huge now, the dance floor is always shredding, and seems that the DJs are now the only ones sitting down.
We would like to invite you to add two tracks to our Flow Suggests melodic house playlist, songs you can't stop listening to what would you like to add?
Dosem's 'August Lovers' and WhoMadeWho's 'Every Minute Alone' are two tracks that I can't stop playing, love them both!
I run my own business which takes a bit of my time. I own and operate "Studio B" which is essentially an international audio specialist service based online. I offer and provide a suite of mixing and sound production services to a growing list of diverse clients. My clients and work history include high-profile advertising campaigns, TV shows, short films, documentaries and podcasts. Studio B is committed to providing high-quality, timely and competitively-priced services to clients in a range of industries. I also create the whole audio component for Elements Festival's opening show, Saturday night show and closing ritual.
Outside of my business, music and touring, I love to soak up the Sunshine Coast by taking advantage of all the beautiful nature at my doorstep including beaches, forests and waterfalls, plus everything in between. I love to take in all the views and inspiration from the extraordinary lands I live in.
We were very excited to have you play at our inaugural Flow Music presents event at Byron in June of this year! What else are you looking forward to in 2022, have you got any releases on the radar?  
I loved playing for you guys, that was such a stellar event, and I was thrilled to be a part of it. Up next for me is Elements Festival. You can catch my techno set at 9pm Saturday on the Sonic Sorcery stage, then also I'm playing after LuciDream and before Tom Baker, which I'm super pumped about! You can also catch me performing my downtempo project "Mixed Business" at 11:30pm Thursday on the Elementary stage. Also, catch my audio production work across all the festival shows featuring on the Main Stage on Friday, Saturday & Sunday evenings.
After that, I'm really looking forward to the 22nd of October for the Minimal Productions warehouse party in Brisbane. Stoked to be headlining and giving this wicked space a big nudge.
Some other upcoming gigs are October 29 at Laruche – Brisbane (Boy With Boat Album Launch – Open Records 15 years Celebration), then November 5 at Black Box – Sunshine Coast (Frisson Records).