Muska Jen is an Australian artist who is also known under the alias of Muska.
Muska is the more upbeat and energetic side to his style which orientates around techno and progressive house in a style he has labelled as 'Bushtechno', as it's the style he has found perfect for the outdoor raves he is regularly booked to play.
Bushtechno is an amalgamation of many genres as it also touches on breaks and minimal along with anything that fits a specific sound and mood, but Muska Jen is the alias he uses to represent the other side of eclectic tastes.
Orientated around slower tempos and deeper moods, Muska Jen ranges from organic house to ambient progressive house. It still holds enough energy to get a dance floor moving, but it's better for early hours of the morning where people need to recharge their energy with a gentle shoulder shuffle and hip swing.
This epic set takes the listener on a spiritual journey that starts slow and finishes up-tempo… so be warned, this might get you chilled, but come the end you will be rushing out the door to find the nearest dance floor, as it's a truly awesome mix!
Words from the artist: "The sound of this set I am beginning to play under Alias – Muska Jen –
The name was inspired by Chia Jen, an artist in Melbourne who is responsible for the decor and painting/artwork of all my stages, as when we are on festival sites working, she selects tracks very much of the kind in the first 1.5 hours of this mix and has inspired me very much over all the years of working with her.
For the latter half, it is primarily from my record collection I never get the chance to play.
For this mix, I wanted to break it up so it was pleasurable, deep and moody, a bit weird at times, hypnotic but then send it home with a little more dancefloor-friendly music. ;
I am booked at peak time so often that my deeper sound rarely gets explored. This compilation of music is all tracks that I either have had on vinyl for many years, favourites I listen to at home or tracks I like that are a bit too leftfield to play in my regular sets.
I also wanted to stay away from my original style of fast pace layering and FX trick style mixing.
This set honours a more traditional style like when I was playing on turntables and old mixers where essentially EQ and Volume fades where all you had. This was important to me to really capture the essence of these age old tracks that are long, hypnotic and minimal.
This is much more aligned with music and artists I have a deeper sounding connection with.
This is an unplanned DJ set mixed live with some minor edits later with an additional three tracks added in ableton at the end to show off some original productions in the closing minutes and make the mix come together on time.
Hope you enjoy the set."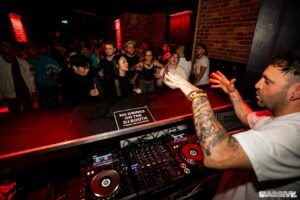 Facebook – www.facebook.com/Muska.AUS
Soundcloud – @djmuska
Instagram – www.instagram.com/michaelmuska/