Anthony Pappa is a DJ who learnt his craft in Australia before making a name for himself in Europe.
Born and raised in the Melbourne area, he has discovered electronic music at a young age, and in his teens was already playing some of the best clubs in Australia. He moved to the UK in the '90s where he found himself playing alongside the likes of Sasha and John Digweed.
After news of his DJ skills started to spread across the world and he was already getting regular international bookings, in 1999 Anthony Pappa released his compilation mix for Renaissance, with a career full of accolades like his Global Underground mix in 2000 Pappa has taken his rightful place at the top table of DJ royalty.
He is also a talented producer who was part of the Freefall trio who released the iconic classic "Skydive" and has released solo tracks on labels ranging from Dave Seaman's Selador to UMEK's 1605.
Still, in high demand as one of Australia's most accomplished DJs, he regularly headlines festivals and events across the world. He will also headline the Interstellar Groove festival which has its debut event at East Gippsland in Victoria in October.
333 Sessions is a 3.33-hour podcast for artists with links to the Australian club scene, and we are honoured to have Anthony Pappa record our landmark 33rd edition. He also took the time to tell us a little about his forthcoming projects and epic career…
Hi Anthony, thanks for taking the time to talk with us today! We are very excited to have you for the landmark 33rd edition of 333! How did you find putting together a 3.33hour mix, and what type of vibe/energy were you trying to capture? 
I really enjoyed the fact that l had the extra time when recording this mix and, and was able to tell more of a story than your typical 1 or 2-hour guest mix. l decided to start the mix at a mid-tempo groove of around 110bpm, and pretty much build it up from there. I went through a variety of musical genres that I play including electronica, organic house, ambient, progressive house, breakbeat and techno. An eclectic set like this, really gives me the opportunity to showcase a lot of the great music that I love, and also some tracks that I don't necessarily get to play in a club.
You recently did a tour in New Zealand, and I am sure it was nice to get back on the road after such a long hiatus. What's the scene like over there, any highlights that stand out? 
It was great heading over to New Zealand again. It's such a beautiful country, and I have been very fortunate to tour New Zealand many times over the last 20 years. Auckland was great, as I got to play a 4-hour set in a warehouse-style event. I also played in Queenstown, which for me was the highlight of the tour. I played a boat party on Lake Wakatipu, and the crowd were really up for it, so it properly went off with a great atmosphere. The mountain scenery on the lake was breathtaking. Then after the boat party, I played with Josh Butler at a club in Queenstown called Electric Rush. It did feel a bit strange being at the international section of the airport in these times to leave my home country. Something that would never have crossed my mind in the past, when I've been regularly travelling, and taking 200 plus flights a year.
At what age did you first find your love for electronic music, and when did you start DJing/producing music? 
I first discovered electronic music by listening to dance shows the radio. One of the first shows that I can recall was a show called Dance Till Dawn on 3RRR, which was a local radio station in Melbourne. I would record the shows each week, and then buy the records that got played with my lunch money from school. I was 11 years old then, so this would have been in 1984. I bought my first set of turntables when l was 13 in 1986, and then taught myself how to mix. At 15 years old, I was competing in DMC mix competitions, and playing most weekends as a mobile DJ. My first club gig was a year later at the Metro nightclub when I was only 16. I guess you could say I was a very quick learner, as it came to me quite naturally. I didn't start producing music until I moved to the UK in 1995, and it was around a year later when I made my first tracks.
What's the first album you remember buying? 
I think it was 'Stone Cold Rhymin' by Young MC which came out in 1989. Prior to that, I was more into buying twelve-inch mixes of single tracks in order to build up my vinyl collection. I currently have approximately 35,000 records.

What is one track that never gets old for you no matter how many times you hear/play it?
That one is easy, 'Papua New Guinea' by Future Sound Of London

Where did you play your first gig, and how did it go? 
As mentioned before, my first club gig was at the Metro Nightclub in Melbourne Australia when I was only 16 years old. I think it went pretty well, as I ended up becoming the Friday night resident DJ, and from 1992 to 1994 I played there every week.
What would you say is the most rewarding part of being a DJ? 
Doing a job that I absolutely love, and travelling around the world to play music that makes people dance and feel happy.
Outside of DJing and producing music, what other hobbies do you have?
I'm not sure this is a hobby, but spending quality time with my friends and family means an awful lot to me. I think human connection is a really important part of life, and I've got a really good group of people who help support me when times are both good and bad.
What's your Favourite venue to perform at in Melbourne?
It has to be Sidney Myer Music Bowl, as nothing else comes close to its amazing atmosphere and music set-up.
Do you have any new releases coming up?
Yes, I have recently finished two new tracks in collaboration with Jamie Stevens. I can't say to much more right now, but we are very excited to release them.
Your set at the last Comfort Zone was a festival highlight for me, and I see that later this year you're playing at Interstellar Groove's debut festival which looks like it will be a nice intimate event.  How do those smaller more intimate events compare to the high-capacity festivals you have played in the Past?
I enjoy playing both the smaller events and the big festivals. The main difference at smaller events or venues, is you are closer to the crowd so can really pick up the vibe of the room. It helps create a connection between me and the dance floor that can often help me play at my very best.
Thanks for taking the time to talk with me today, do you have a message to fans or anything else you would like to discuss before we finish?
I hope you all enjoy the mix that I put together for Flow Sessions. Stay safe, and be kind to each other. I can't wait to see you all on the dance floor!
Want more Anthony Pappa? Watch Coburg Up Late host DJ Be Kind To Other People interview Anthony on his hit show Coburg Up Late – Click here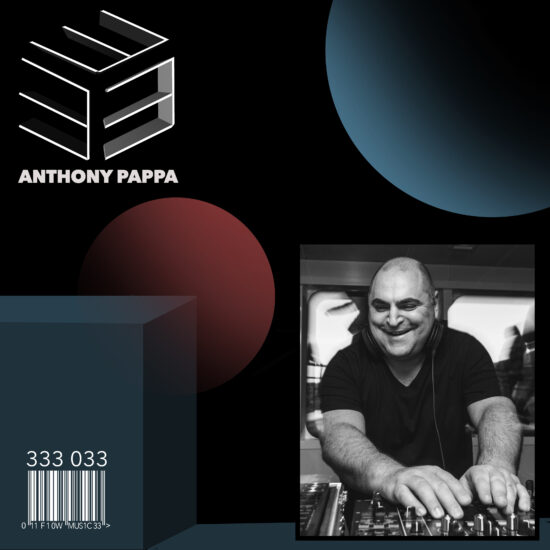 COVER ART – JAI PICCONE