With over 20 years of experience performing in front of crowds across 12 countries.
A Friend of Marcus has played on DJ lineups also including the likes of Solomun, Jamie Jones, Dixon, Sasha, Apparat, Guy Gerber, Scuba and Henry Saiz.
He has released music on Last Night on Earth, Natura Sonoris, Blaufield, featured on two Balance Music compilations, and placed highly in the Beatport top 50.
His music has been played by Sasha, John Digweed, Hernan Cattaneo, Joris Voorn, Henry Saiz, Paco Osuna, Lane 8, Guy J, Nick Warren, Jeremy Olander, Guy Mantzur, Eagles & Butterflies, Fideles, Edu Imbernon, Jeremy Olander and many more.
A message from the artist: "This mix was quite challenging to put together but at the same time it was super fun to do.
I think 3:33 Sessions is a great concept for a show so I spent about a week going through music and putting tracks into a folder, and I think I ended up with enough to last me about 6 hours! The real challenge for this mix was deciding what direction to go in, and when; as I love to mix up the styles that I play and with 3hrs and 33mins to play with, there's a lot of choices to make.
I ended up with a mix of basically two halves… The first half focuses more on an underground melodic house vibe with the second half being focussed on a deeper, darker, melodic techno sound – both are sounds which I love to play.
The mix features recent releases from Nandu, Agents of Time, Hardt Antoine, Pional, Adam Port, Shiffer, Pig & Dan, Joyce Muniz as well as unreleased tracks from Gheist, Keinemusik, Henry Saiz, Edu Imbernon, Sascha Braemer, Reset Robot, as well as a couple of my own productions including my next release which is out in May on Renaissance. There's a few classics thrown in (see if you can pick them!) as well as tracks that just don't seem to leave my record box like Tunnelvisions – Mirrored Identities, Mind Against's Celestial Dub of SCB – Test Tubes, and Radioslave's remix of Apparat – Caronte. I've also included tracks by Melbourne producers Charles Oliver and William Kiss, both of whom I've been big fans of for some time, both amazing tunes on this mix.
I've finished the mix with a tribute to our dearly departed friend and legend of scene PQM who sadly passed away recently. He will be sorely missed and my thoughts go out to his family, friends and fans, not only in Melbourne but all around the world.
I'd like to thank Flow Music for coming up with such a thoughtful, artist focussed, Australian focussed concept, and for including me so early in the series. I hope you enjoy this mix as much I enjoyed putting it together."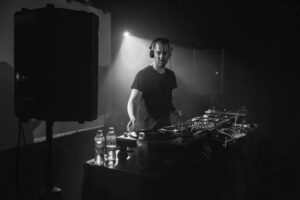 Cover Art – Jai Piccone