Double Touch is an Australian duo synonymous with Lee Burridge's label All Day I Dream, and next week they will perform a special set on a 100-foot luxury yacht in Sydney Harbour.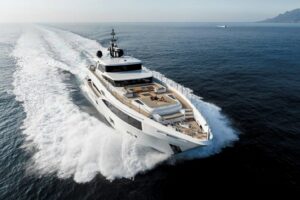 The event will also be filmed by Richie Hall Film to be broadcast on the All Day I Dream Sunday video stream.
The duo consists of ARIA-winning musician Mark Olsen and classically trained pianist Van-Anh Nguyen. Together they combine under the header of Double Touch, and their deep and melodic style creates a lush soundscape consisting of both electronic and acoustic textures.
Their enchanting style will be the perfect soundtrack to the beautiful landscape of the Sydney Harbour, and all who set sail can look forward to a magical evening that will be impossible to forget.
Perfectly timed to capture the sunset, the event is next Thursday the 15th of April, and runs between 4pm and 8pm. Other DJs playing the event include Caleb Jackson, Anya, Wil Chapman, and Jeremy Kay.
After 8pm the party continues onshore at The Cosmopolitan where Double Touch will be playing until after midnight.
Tickets are limited, but those lucky enough to attend the event will be welcomed with cocktails and canapés as records are being spun by the DJs.
Tickets are available from HERE