Joe Miller is an English-born beatmonger, influenced in equal measure by heaving clubs and the earthy melancholy of forests.
He grew up in Australia, where he learned to craft sets that are whimsical and left-field, evoking a sense of place.
Joe has released music on All Day I Dream and Dawn Till Dusk (with Jamie Stevens), Dream Culture, Magician on Duty, Nie Wieder Schlafen, Sag & Tre, Sound Avenue, Interlude, L'enfant terrible, Traum Schallplatten, Manual, with support from Sasha, Guy J, James Grant, Nick Warren, Mira, Atish, Robert Babicz, Lane 8, Nora en Pure, Anthony Pappa, Gab Rhome, Pablo Bolivar, YokoO, Danny Tenaglia, Tone Depth, Chris Fortier and Love Over Entropy.
Joe's 2019 schedule has included headline sets in Miami, New York, Saigon and Tokyo. Recently, he has contributed mixes to the Balance Series, Frisky Radio, Bespoke Musik, Canopy Sounds, Oleeva Records, Magician on Duty, and Deeper Sounds (streaming on British Airways and Emirates flights).
A message from the artist: "For someone who likes dance music, I have a pretty short attention span, and I tend to do a ton of editing on my studio mixes so that tracks are changing over every few minutes. But Flow Sessions' 3.33-minute allowance let me lay off the scissors for once, giving these tracks plenty of space to breathe. I ran all around the hills and groves of electronic music from the last thirty years – there's new age ambience from the nineties in here, low-slung Andy Stott techno, hip hop (from 1996 to 2017), house, classic jungle, Flying Lotus (gets his own genre), and even a bit of folk music. It's the kind of selection that'd make sense in London in the winter, with a gently hopeful melancholy tying it together. But my idea of melancholy is often someone else's idea of euphoria, so if you find this uplifting then that's good too.
A huge thank you to Flow Sessions for setting up this scheme. There's a respect and nurturing spirit behind this thing, and now that the heyday of the mix CD is long gone, any gesture of support towards mix curators is really heartening."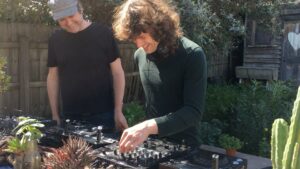 Cover Art – Jai Piccone