POB'S gets his KICKS from dancing whilst he DJs, engaging & creating a dialogue with the DANCEFLOOR.
He's got an INVENTIVE mixing style & with wit & a gracious attitude, he seamlessly weaves the finest HOUSE & TECH to create rich, captivating sound environments. He maintains a loyal and eclectic UNDERGROUND following.
Co-Creator of the FORWARD-LOOKING house music event  "SuNDaY KicKs" at the Billinudgel Hotel, in the Byron Shire which is having a rest due to Covid.
He's had a show running on Bay FM COMMUNITY RADIO at different time slots for the last 16 years called, "Sonic Rotation", now on Fridays 8-10pm.
Over his years DJing he's supported many renowned Australian and International acts playing Market stage at RAINBOW SERPENT, TRIPLE J MIX-UP TENT & Tipi Forest at SPLENDOUR in the Grass, the BIG DAY OUT, the legendary Electric Forest gigs, LightBody Community Dances & Cyber Tribal events and a gazillion cracking house parties. Recently played at ELSEWHERE on the Gold Coast.
A message from the artist: "Super-honoured to be included in the 333 Sessions series amongst the hot names and quality flavours. it's been really ace to get a sky-gazing mix together. I thought of the journey of a creek, through eddies and stillness, opening wide, glistening sun reflections, turbulence through rock, babbling under foliage. hopefully, a bit of imagery got woven into the mix but essentially its deep and lush, like a good shagpile.. and a huge thanks to all the music makers, the dreamers of dreams… enjoy pob x"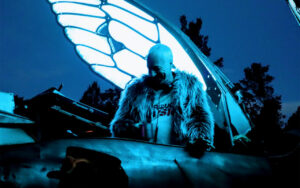 Cover Art – Jai Piccone