Born and raised in Torino, Italy, Chiara is a Melbourne-based composer, DJ and musician.
Her artistic appreciation and a blend of music disciplines allow her to produce an eclectic range of musical outcomes.
Classically trained in piano and later exposed to electronic music after moving to Melbourne in 2004, Chiara has since earned a well-respected reputation in the Melbourne Techno scene.
Chiara's works composing and producing music and sound design for film and commercials, but also creating electronic music for live performance. She also composes soundscapes for immersive environments and art installations, and the experimental use of field recordings with analogue and digital synthesis.
Over her DJ career, Chiara has performed at a range of venues across Melbourne, supporting international DJs such as Robert Hood and Ben Sims.
A message from the artist: "This is a mix of music I love. Because it's such a long mix, it really gave me the opportunity to explore so many different genres, hoping to take you on a nice journey in the world of sound xxxx"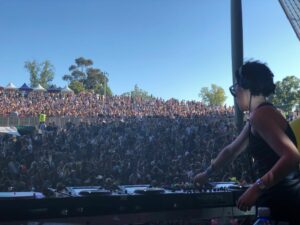 Cover Art by Nick Behrman