Taglo is a regular at festivals across Australia and is known internationally for tracks released by the likes of Black Hole Recordings and Silk Music.
Taglo is an artist who is well-known across Australia for his epic DJ sets orientated around progressive house, but also touching on deeper more organic styles as part of a broader sound.
He has roots in trance music where he discovered a love of melody and how electronic music can trigger strong emotions.
As his sound matured and became more diverse he branched out into deeper and more underground styles such as progressive house.
Already a regular at local events in Byron Bay where he is based, he often DJs at festivals across Australia, and is one of the country's most respected club spinners.
Elements Festival, Circus Paradise Festival and Babylon Festival are just a few of the festivals where he has played, and he has also built an international following via the tracks he has produced.
His productions have been released on labels such as Black Hole Recordings, Alter Ego, Freegrant Music, Skyfall and the world-renowned Silk Music.
We are honoured to have this epic journey of a set that starts deep and ramps up the energy over the course of 3 hours and 33 minutes.
A message from the artist: "Coming from a trance background from around 2004-2010, I've always been a big fan of the long "journey" sets. This is why once a year, I do an open to close set (6-7 hours) as I feel the art of the journey has slowly been lost over the years. Being asked to bring you a 333 session, was an absolute pleasure! Beginning from an ambient intro, into the organic house vibes with a bit of progressive and breakbeat to continue the flow. Sit back, relax, close your eyes, and enjoy the music I love, as I get lost in myself. Big love to the 333 Flow Music crew for keeping the journey alive!"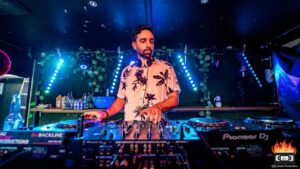 Instagram
Beatport
Facebook
Soundcloud
Artwork: Nick Behrman