Dave Dinger is headlining the event in the style the German artist is famed for playing at Berlin's iconic nightclub, Kater Blau.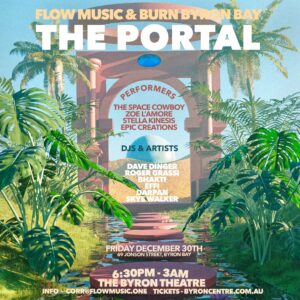 On the 30th of December, Flow Music is teaming up with Australian promoters Burn Byron Bay to present a hedonistic night of epic electronic music at the Byron Theatre.
Burn Byron Bay are known for bringing a taste of The Playa to Australia with events that celebrate community and creativity, while also creating a fun environment for people to let loose and party.
The event is being hosted in collaboration with Flow Music and will be headlined by German artist Dave Dinger, who is well-known for being a resident at Berlin's iconic nightclub, Kater Blau. He is playing the event as part of an Australian tour and there is already building excitement for his performance.
Dave Dinger's house and techno style is a fusion of organic instruments and enchanting synth lines that are fused with sequenced beats to create a sun-drenched vibe which radiates heat across the dance floor. Transporting the listener on a sonic journey through exotic lands, he is also a skilled producer who has released tracks on the likes of Heinz Music and Katermukke.
There will also be DJ sets from talented Australian artists including Roger Grassi, Bhakti, EFFI and Skye Walker.
To help create the vibe of a desert festival, the event will also offer free face and body painting along with a selection of performances including spoken word layered over music by DARPAN, The Space Cowboy, Zoe L'amore and Stella Kinesis, plus dance performances from Epic Creations.
There are also two bars selling alcohol and other refreshments plus a stall for Herbal Elixirs and a Funktion-One sound system to ensure the best music quality possible on the dance floor.
Patrons are told to leave their ego at the door and encouraged to dress as if they were spending a night in the desert. Doors open at 6pm and the night's decor will create a theatrical Burner-style entertainment that will become an immersive adult playground.
Tickets are already selling fast, and you can buy them HERE.