Niki Sadeki is a self-taught and highly creative artist who has perfected her DJ skills over many years.
Also, a radio host, event organiser, label collaborator, curator and producer she has tirelessly worked to pursue her passions, and help grow the organic house scene in her native Canada.
Recently she set up a new record label with El Mundo & Zazou called Quetame Records, and she is also the curator of Deep House Vancouver.
Travelling with a spring in her step, she regularly plays places like Fusion Festival, Kater Blau, Village Underground London, Shelter Amsterdam, Woomoon Ibiza and Storytellers Tulum, The Cityfox Experience, Do Not Sit on the Furniture, and regularly at Gorg-O-Mish in her native Vancouver.
Her down to earth and steady love for sound has shaped a willingness to always adapt to the situation at hand, and as a result, she has built an international crowd of devoted fans.
A message from the artist
"Longer sets always mean having the opportunity to explore many different moods and styles, finding that common thread between them, and the ability to bring them all together. Working on this mix was an absolute pleasure. I took it as the opportunity to mute the outside world for hours and to dive into the world of music – my happy place. I don't want to get super sentimental here, but making this mix was definitely a healing journey for me, and I felt I got to reconnect with a side of me which has been less present in the past year or so. I hope you enjoy going through it, as much as I did :)"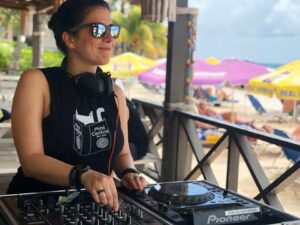 Cover Art – Jai Piccone