Flow Sessions presents a special hybrid set of exquisite organic house by Pandhora whose music has been featured on Souq Records, Art Vibes Music and HMWL
Flow Sessions strives to support musicians, producers and DJ's in good times and bad. With this is mind we have commissioned DJs around the world to contribute mixes to our new series 'Flow sessions'. We thought it would be appropriate to show some support for our future performers now when it's needed most.
A message from the artist
"We named this podcast "Unmute Your Heart" referring to the closing track. Through this musical journey, we intend to convey the listeners through a flow of ever evolving energies & emotions. It starts with a funky deep track that slowly progresses into dreamy organic vibrations. As the story unfolds, the podcast goes into deeper & introspective territory. We improvised and experimented with various sounds to be able to sense the flow of each track and put the emotions in notes and rhythms. This mixtape explores a large spectrum of feelings ranging from melancholia to euphoria. Happy listening! P.S. hybrid set = DJ set with live guitars and keyboard"
Tracklist:
Dominik Petzold – Who To Be [Amselcom]
B.A.X. – Desolation [Flug Lab]
Loveway – Seren [Amulanga]
Cahelo – Dina Bakh [Art Vibes Music]
Ancone – Treasure of Pamir [Flug Lab]
Mitch Oliver – Alleghanys [When We Dip XYZ]
Kreisler – In Another Dream [Dialtone Records]
Double Touch, Bross (RO) – Cielo (Fulltone Remix) [Amulanga]
Blank Page – Phoenix
Different Ray – Inner Child
Somelee – I Cant No Longer Hide [ODYS]
VICTHOR – Seraphim [ODYS]
Pablo Bolivar – Tali [Seven Villas Music]
Juan Deminicis – Born Into This [Flug Lab]
Roy Rosenfeld – Phase [Lost & Found]
Agatha Pher – Unmute Your Heart [Kindisch]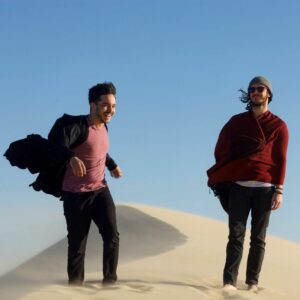 Pandhora.
Soundcloud: @pandhora
Instagram: instagram.com/PandhoraMusic
Spotify: tinyurl.com/PandhoraSpotify
Youtube: bit.ly/2SAPEqG
Cover art: Jai Piccone