Elias Goldmund is one of the people who founded the Mystic Creatures events and Mystic Tales record label.
Based in Berlin, his music alias 'Elias Goldmund' was inspired by the corresponding character in Hesses novel "Narziss und Goldmund". Learning to play violoncello from age eight, it became the seed that formed a fundamental understanding of music. His deep love of music has been growing ever since, and he sees music as a way to communicate beyond words, as it can be the guide to a deeper understanding of existence.
A message from the artist: To step into the moment and to go with the flow was always one of my highest goals and also one of my biggest challenges. With music I find my flow and connect with my feelings very naturally and playfully. In this set I want to bridge the gap between more laidback and dreamy tunes and those that stimulate the dancers in us. Furthermore, this mix is composed of three different waves of tension that fade into each other like water that comes and goes at the shore of the ocean. I am very happy to be a part of this amazing podcast series and I want to give a huge thanks to the whole team for making that possible! Music is a way to communicate beyond words and can be the guide to deeper understanding of existence. – Elias.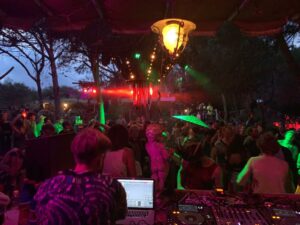 Cover Art – Jai Piccone