Wild Dark is an NYC based DJ and production duo consisting of brothers Corey & Ryan Negrin.
Together they have pooled their many years of electronic music influences, and take elements of melodic techno and deep house to create atmospheric tracks with organic textures.
They have played DJ sets everywhere from The Robot Heart Bus at Burning Man to Bedouin's Saga in Ibiza, and their productions can be heard on influential record labels such as Anjunadeep, Supernature, Do Not Sit On The Furniture Recordings and Akbal Music.
We are super excited for them to have recorded this exclusive 3:33 hour mix for Flow Sessions, as it's a magical journey through sound. The guys also took the time to answer a few quick questions…
First of all the mix is stellar! Thanks for taking the time to talk with us today. How did you find putting together a 3.33hour mix, what type of vibe/energy were you trying to capture?
Thank you, we appreciate that very much. We love your 3:33 concept and were looking forward to working on this mix for quite some time. 
This set was recorded just after we returned home from our show in Tulum just a few weeks ago. With our heads still stuck in the sand, we easily agreed on an outdoor, sun to moon, type of vibe 🙂
Tell us a bit about what your life is like at the moment, where are you? what gigs are coming up? 
Well, despite the current pandemic conditions we're all facing together, we are thankful that life is good, and we have family close by.  We live with our families a few towns away from each other in Westchester NY.
Ryan is "dadding" hard these days with his identical twin boys who are almost 3 years old non, but uncle Corey is also there for a lot of it.
Spending quality family time balances us out. If we are not with the twin boys, then we are working on our next ideas, or possibly mowing Ryan's yard on his badass tractor. In the next few weeks, we have some exciting events and travelling coming up. We have a couple of shows in NYC, then off to beautiful Puerto Rico, followed by a trip to Cuyama Valley in Ventucopa, and CA for a crazy Halloween weekend in the desert. We're expecting some good times as always! 
At what age did you first find your love for electronic music, and when did you start DJing/producing music? 
We simultaneously developed a passion for electronic music in our teens back in the mid-90s. In 1998 we picked up some Gemini 500 belt-drive turntables and hopped aboard this DJ train, but we're still not sure who is driving lol. In the early 2000's we dabbled in production here and there, but It wasn't until 2010 when we truly focused the majority of our attention on producing our own music… that's when the fun really began.
It's been a difficult period for many. In what ways have you adapted as artists to keep afloat, and will you carry these new skills with you as the world returns to normalcy? 
Yes, it has definitely been a difficult time these past 19 months. Rebalancing as individuals, brothers and partners, took some work and patience. For us, working multiple projects and looking towards the future has kept our workflow and creativity steady. We feel very fortunate to have had gigs to play here in the states, as we did have a fun summer.  More so now than ever, we have a huge appreciation for all the opportunities that come our way. So, we'll remain patient and continue to hustle. 
Do you have any new releases coming up? 
We do! We have a remix that we did along with our close friend and frequent collab partner, Ariaano (Ariaan Olieroock who is 1/2 of the legendary duo 16BL, as well as a member of the ground-breaking electronic trio, Cubicolor). The remix with Ariaano is of a track called "Man of Nature" by Baham. That one is coming out at the end of Oct on Audiofly's Supernature. In November we will release a collab we did with Nhii on Sounds of Khemit, as well as our 3-track Wild Dark & Ariaano "For The People" Ep on The Gardens of Babylon Recordings. We have many other releases coming out in 2022 on some of our favourite labels, but well focus on those at a later date 🙂  
Also, we will finally be launching our new label called "Future Amigos" with partners Ariaan & Peter of 16BL. We held off on the first release when Covid hit the fan, and put our industry at a standstill. We're pumped about this label, and very excited to set the music free. 
What's the most memorable set you ever played, and why was it so special? 
There have been many memorable sets in the past 24 years, but the one that sticks out most is the first time we played on the Robot Heart Bus at Burning Man in 2017. It was our first Burn, and we were set to play only a few hours after we arrived in Black Rock City… it was a hell of a welcoming!
Our first night out on the playa, and we got to play on top of that legendary beast of a bus in front of a sea of people, with illuminated bikes, fur and fire, a pirate ship on wheels, and even Blinky from Pacman was there too, we think 😉 It was complete sensory overload, and you never forget an experience like that.  
What is one track that never gets old for you no matter how many times you hear/play it? 
Back in the very early 2000s at Vinyl in NYC we saw Sasha play, and he dropped "Junkie XL – Beauty Never Fades". We've never gotten tired of listening to that track ever since.
A massive thank you from the Flow team, the mix is compelling and we are stoked to have you on. Is there anything else you would like to add? 
Thank you for sharing great energy and great music with the masses. We hope to see you in Australia sooner than later!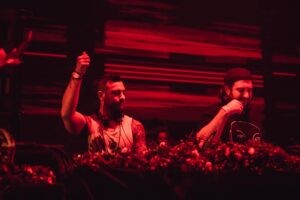 -Artwork by Jai Piccone-