The Journey has released their own productions on labels ranging from Stil Vor Talent to Dear Deer.
Well-versed duo The Journey gravitate in the melodic techno and progressive house pool, opening things up on a musically atmospheric note all while synthesising influences around them. Embracing electronic music's poignant zest, they are delivering studio output supported by pioneers and humble music enthusiasts equally.
Built to keep dance-floor hearts full, the Melbourne based producer, DJ and label pair have knelt to electronic devotees on one knee, gracing stages at the iconic Rainbow Serpent Festival, Pitch Music & Arts to Subsonic and Strawberry Fields Festival, while having cemented solid tours throughout Europe in 2018 & 2019.
Delivering ammunition for the club and a bunch of cosy-and-warm synths for the afterparty, with labels like Stil Vor Talent, Ritual & Einmusika Jacob and Tom have also collaborated with fellow Australian underground peer Pantheon with 'The Conqueror' on Dear Deer Records. Recent remix roles for singer-songwriter Running Touch on 'My Hands' acquired a well-deserved spot on Ministry of Sound's Annual 2019, amid remixing for 'Treaty' by Yothu Yindi attracting prodigious recognition resulting in The Journey being nominated for Music Victoria & The Age's Electronic Artist of The Year.
As curators of Ugenius Music, the duo pass on their emotive production qualities, signing some of the most impressive local and offshore producers in their sphere.
At the end of 2019 the boys released their huge single Chasing featuring Australian vocalist Stace Cadet which has celebrated massive chart success both internationally and nationally. They followed up with two singles on Oliver Koletzki's imprint "Stil Vor Talent" and Nil's Hoffman's "Poesie Musik" respectively which gained an abundance of international support. 2020 has seen the pair charge forward with further releases on Ritual and Marcus Heinhardt's Heinz Music.
The road ahead derives inspiration from the last year's vibrant success – musically on some of the world' most celebrated record labels, amidst stacking shows across the Australian summer and straight to Europe where the pair's third tour of the region is imminent.
A message from the artist: "When we got the call up to mix a 333 sessions podcast, we were stoked!! Since the beginning of the flow music series, it has been a go-to for finding some winning mixes to get us through the Covid crisis in Victoria. Whilst it's been a tough battle here it has allowed us to work on lots of music. Starting slow and gradually build the podcast was always going to be how we approached it. We have always considered our style to be eclectic whilst still maintaining continuity with our flow. It's an absolute pleasure to be included in the series and hope you enjoy the selections."
Tracklist:
Robytek, Shield, Katia Ricciarelli – Habanera (Nu & Israel Vich Remix)
Oliver Koletzki – Satinka
Dousk – Anagram
Baril – Vocales
Damian Lazarus – Mountain (Tornado Wallace Remix)
Nicolas Rada – Prana
Davi – Distant Memory
Sumach – Elounda Morning (South West Seven Remix)
Khen – Out Of A Dream
Matthias Meyer & Ryan Davis – Hope
Golan Zocher – The Element (Kasper Koman Remix)
Shai T – Where The Heart Is
Stereo Underground – Zooz
Juan Pablo Torrez, Kamilo Sanclemente – Leda
The Journey – The Gift
Dave Pad, Anjei- Cantec De Leagane
Lazursmann, Rowee – Brightness
The Journey – Winter
Dave Seame, One Million Toys – Everything Comes In Threes (D'nox & Beckers Remix)
Yeah But No – Run Run Run (Adam Port Remix)
Dee Montero – Sapphire feat Shahin Badar
Tim Engelhardt – Shine
Fabio Aurea – Yini (Armonica Remix)
Piek, Jim Hast – That's Me (Trippin) (Pablo Bolivar Remix)
Mathew Dekay – Heimreise
D'nox & Beckers – Bitter Rain (Cid Inc Remix)
Bebetta – Eating People
The Journey & Doppel – Mudrunner
The Journey – Momento Mori (Doppel Remix)
Marsh, Nox Vahn – Come Together (Matthias Meyer Remix)
Dale Middleton – Eggos
Khen – Born Out
Nine One – Rainforest
Township Rebellion – November
Edu Imbernon – Rinascimento
Bootes Grey – Arpeggios In The Sky (Third Project Interpretation)
Einmusik – Serenade
Volen Sentir – Na Dvore Doszhd'
FC Kahuna – Hayling feat Hafdis Huld (John Digweed & Nick Muir Remix)
Shanti Celeste – Sun Notification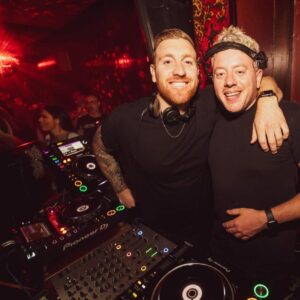 Soundcloud: @thejourneymusicaus
Facebook: fb.me/thejourneymusic
Instagram: instagram.com/thejourneymusic
Cover art by: Jai Piccone