Sunshine is well known for her weekly sets at Melbourne's Revolver and the 'Sunshine and Disco Faith Choir'.
Sunshine is known for playing DJ sets at Melbourne's Revolver Saturdays where her 7am Rise & Shine sessions have been one of the nightclub's weekly attractions for over 17 years. Playing on the line-up with names like Gary Beck, Seth Troxler and Sven Väth, she is one of Australia's most respected underground DJs.
She has also played regularly at Australian festivals such as Beyond The Valley, Splendour In The Grass, Piknic Electronik and Babylon.
After discovering electronic music at the age of 12, Sunshine first cut her teeth playing at illegal raves before her first official club slot, and from there the rest is history.
In 2016, Sunshine embarked on a different kind of sonic energy when setting up the 'Sunshine and Disco Faith Choir', which is a club-ready DJ set with the added uplifting energy of a 12 piece choir that makes people rejoice in the holy name of house and disco.
Those sold-out shows led to the setting up of Disco Faith Recordings, which is a record label curated by Sunshine. Sunshine was also kind enough to answer some questions about life and her love for electronic music.
How did you find the format for 333 and what type of vibe/energy were you trying to capture? 
It was a great way to dive into the music I'm loving at the moment. I'm a massive fan of long sets and getting lost in the journey of playing for hours.
I play 5hrs every Saturday morning at Revolver in Melbourne. The exciting thing about that set is the challenge to get everyone to stay and not go home. This mix was inspired by my love of dancing and dance floors. It's an elevator ride up through house and techno that will have you rejoicing until the end. Perfect for a one-person party dancing on your coffee table with the lights off or with a bunch of friends. It's all tracks I absolutely love. I hope you enjoy it as much as I did recording it 🙂
At what age did you first find your love for music, and when did you start DJing / producing music? Where did you first hear electronic music? 
As a kid I loved music. My favorites were Prince, Madonna and Kylie. I had all their albums on cassette. My first dj gig was in 1999 at a party in Port Melbourne, I was so nervous but it turned out really fun. My first release came out in 2013. It was a remix I did for Avon Stringer and then later that year I released my first original called 'Heartbreaker'. I was 12 years old when I discovered raves which is where I first heard electronic music. I remember seeing a news story about a party where kids danced all night and it sounded like so much fun. I found a flyer for a rave at a clothes shop near where I lived. After the first one, I went to I was hooked.
Give us some artists that got you through lockdowns and this crazy period / what have you been listening to lately
Some of my favorites during last years Melbourne lockdowns were – Rampue, Fat Freddys Drop, Ann Pebbles, Audioslave, East Forest
How was your festive season, must have been nice to blow off some steam after the year/s we have had in Melbourne?
It started off super exciting with lots of gigs and parties but then I caught covid just before xmas, like a lot of other people, so I was in iso until after New Years.
I understand that you have been playing Melbourne's infamous, Revolver upstairs for over 20 years, how has it changed over the years? 
I've been a resident dj at revs for 23 years. 19 of those years have been on Saturday mornings doing the 7am-12pm slot. Its funny with revs, even though the crowd will change over the years it's always the same type of person who falls in love with the place, so each new generation still feels the same as the last except for their dress sense. The music that gets played there changes over the years but it's the one club I play at that you can still play music from 20 years ago and
it works just as well as what's being played currently. A few of the djs who play every week at Revolver have played there for a long time which is probably the reason you can still play music from the past, it's the same people telling the musical story of the club a few decades down the track.
On your release you gave the genre as Hapno, (Happy House + Techno) is this a genre you have coined?
Yeah it's a genre I coined to explain what I play. My sets are happy, energetic and take you through a journey of different types of House and Techno.
Tell us a bit about the Sunshine and Disco Faith Choir project that you have been involved with? 
I started this project in 2016. It was an idea I had to bring my dj sets to life by incorporating the incredible voices of a live 12 piece choir. Originally it was about writing an original track with a choir and celebrating with a record release party where the choir performed live during my dj set. Through that process I ended up setting up my own choir and after doing one performance I was hooked and decided to put all my energy into this project. I work with an incredible team and thanks to everyone involved it's now a really fun, energetic live show experience that has taken on a life of its own. I'm excited to see what the future brings for us.
Disco Faith Recordings is also your label right? How long have you been working on the label? 
Yeah that's right. I started it in 2017 as a platform to release the original music I'm making under Sunshine and Disco Faith Choir with a vision to release other people's music in the future.
What's next in your schedule,  any upcoming gigs or releases you would like to mention before we finish?
Covid restrictions have put a stop to most of my gigs at the moment but for now, you can catch me at Revolver every Saturday morning 7am-12pm.

This is the new music I have out now or coming out soon
'Glory' by Sunshine, will be coming out on Disco Faith Recordings soon
'Welcome To The Dancefloor' by Sunshine and Disco Faith Choir. Out now on Disco Faith Recordings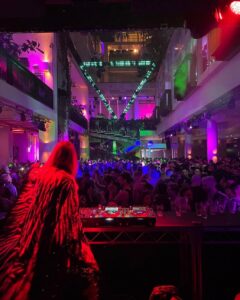 www.facebook.com/sunshinethedj
www.instagram.com/sunshinethedj/
www.facebook.com/sunshineanddiscofaithchoir
www.instagram.com/sunshineanddiscofaithchoir/
@sunshinethedj
Cover Art by Nick Behrman