Shamus style is ultimately guided by the idea of space, authenticity, and depth, and he playfully blends an array of selections in his DJ sets.
Originally a jazz/funk drummer from Colorado, USA, he indulged in the jam band scene, Shane Crosland is the artist known as SHAMUS and founder of the SONIK-INO collective, and is currently based in Byron Bay, Australia.
No stranger to tension and release, SHAMUS remains in a position to fully explore sounds both old and new, across the realms of house and techno with astral, euphoric, world, and soul influences. With that, he is able to create eccentric, emotive, and vibrant dance floors.
A message from the artist: "For me, music is really inspired by the eclectic tastes that the world and its people have to offer and share. Apart from the world of music, I also work in the film industry, focusing on direction and storytelling, and I think this can translate into blending sounds together as well. Telling a journey through ups and downs, pushes and pulls, different emotions through different sounds. This aural exhibition complements a visualised story of a blend of my travels from leaving the US 5 years ago, to now settling in Australia (for the foreseeable future) with the people and experiences I have been able to learn from. When I was approached to make this mix, it allowed me some time to reflect and make something that was inspired by dreams of the unknown and the need for adventure and expansion of the mind. That being said, the journey of the mix should allow the listener to venture through the dance music sounds and influences of US (Chicago, Detroit, Colorado, & New York), Europe, South America, Asia, and Australia) and allows of for a sense of reflection and nostalgia."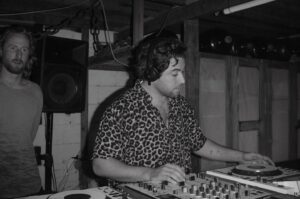 IG: @shamus_______
IG: @sonik_ino
@shamusmusic
@sonik-ino
Cover Art – Jai Piccone