Some of techno's biggest names have contributed music to a 99-track compilation in support of Colombians protesting against government corruption and police violence.
Coming out on June 3 via the Icelandic label Planet X run by Exos, the compilation is titled '100 years of Colombia'.
Featuring on the compilation is music from Marcel Dettmann, Rødhåd, Kobosil, Dasha Rush, Bjarki, Nina Kraviz, Mark Broom, Setaoc Mass, Slam, LaFontaine, Lady Starlight, FJAAK, Oscar Mulero, Volruptus, Answer Code Request, Matrixxman, Yant, Sunil Sharpe, AnD and more.
Proceeds from sales will be donated to charitable organisations working across Colombia with connection facilitated by ColPaz, which is an NGO dealing with social development issues in Colombia. They support third party organisations based in the country that are working in defence of civil human rights.
Some of the organisations that the fundraising compilation will support include Desaparicion forzada, Movice (Movimento Nacional de Víctimas de Crímenes de Estado) and Red Juridica Feminista.
Talking about the compilation, Exos said: "Since April 2021 the people of Colombia have been protesting peacefully against corruption and unfairness from their government entities. These protests have been permeated and violated by terrible police brutality. There have been documented disappearances of hundreds of people, killings of civilians by police forces, sexual assaults made by members of the police, and thousands of injured victims according to the non-governmental organization ONG Temblores, who have been documenting the situation.
"The compilation '100 Years Of Colombia' brings the Techno scene together to make attention and awareness of what's happening in Colombia, with a hope for a better future."
You can pre-order a copy of the release from HERE.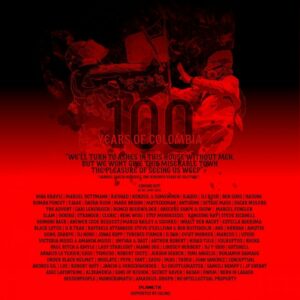 H/T: Mixmag