Las Vegas is a place known for the lavish and outlandish nightlife of themed resorts, along with being a gamblers paradise.
If you already thought some of its attractions were out of this world, then its latest resort is taking things one step further. 'Moon' is a new resort that is based on futuristic space travel, and will be located in a giant spherical structure that is designed to look like a full moon in the night's sky… except it landed on the ground, and has bars, restaurants, casinos and a nightclub.
The new nightclub has caught our attention, as it sounds like something rather unusual, being positioned directly under a model spaceship. Clubbers have sometimes described the feeling of being lost in music as an 'out of body experience', which is something that is also often associated with alien abduction stories. So, it seems fitting that the spaceship will beam its lights down onto attendees.
There is no completion date set for the project, but the concept is the brainchild of two Canadian entrepreneurs. Assuming all goes to plan, the Moon resort will be the largest sphere in the world, and the second-tallest building in Las Vegas at an incredible 735 feet from the ground at its tallest point.
Moon also has plans to include a glass-bottomed walkway that will simulate weather patterns underneath, to create the impression of looking back at earth from the moon. There will also be a moon buggy ride and many other attractions as part of the resort.
This isn't the first time the concept has been pitched, as the Canadian entrepreneurs originally proposed their concept to the Coachella festival in 2016. That time it was turned down, with former Coachella manager David Garcia, telling Vice: "hard to express any opinion about a project that exists only as poorly rendered graphic designs."
This time around it seems the project pitch has gone a bit further, but as the plans progress further, it may well face some more scepticism.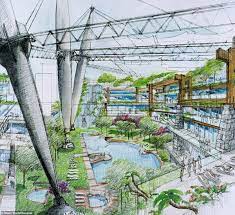 H/T: Daily Mail