Mode B is a melodic house and techno DJ + event organiser based in Melbourne, Australia.
He is co-curator of Melbourne music collective TOAST as well as video broadcasting, events and tourism platform Around Town. He is also the co-director of boutique Gippsland music festival MOTION.
Ben is from Melbourne originally but spent almost 20 years growing up overseas – living in Africa and Asia, and travelling all over the world. This international upbringing has translated across to a diverse taste in music and unique approach to production.
Since moving to Melbourne he has immersed himself in its electronic music and festival scene, and as Mode B he has DJed at Revolver, My Aeon, Storyville, Colour, Brown Alley, and Groundfloor.
With a focus on pushing an emotive brand of dance music, Mode B's sound is layered and varied, with sets characterised by plenty of mood, melody, tribal and percussive elements, and precision mixing.
Now turning his attention towards making music, his debut production 'Pertama' charted No.74 in Beatport's Top 100 Best Selling Progressive House chart…
A message from the artist about the podcast: "Firstly I'd like to say an enormous thank you to the team at 333 and Flow Music for inviting me to contribute to their amazing series – I've been a regular listener since its inception and have so much admiration for the work they have been doing to showcase the Australian dance music scene to the rest of the world. As a huge fan of the series and of so many of the incredible artists involved, I was truly humbled when I got the offer to put this together.
For this mix I really wanted to make the most of the extended playtime – so my goal was to curate a cohesive journey across a wide bpm range, featuring tracks from across all of my favourite genres. It starts out at around 107 bpm with a piece of traditional Indonesian gamelan music – gamelan instruments were the first I ever learned to play while I was growing up in Indonesia, and was the initial spark for my deep fascination with music. From there, the mix slowly works its way up and navigates through organic house + downtempo, afro house, melodic house and techno, progressive house, indie dance, dark disco, with bits of acid, breaks, and electronica also thrown into the mix. This set was extra special to me because I was also able to include my first original production, "Pertama" in the tracklist."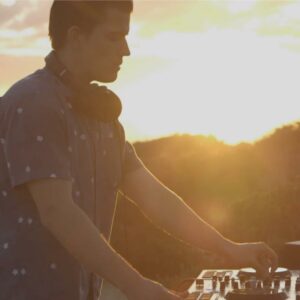 Cover Art by Nick Behrman