Spirited emotion is the protagonist in Jonas Saalbach's brand of electronic dance music.
Deeply uplifting and body-moving, Jonas Saalbach has released eps and long players with Einmusika, Bedrock and his own imprint Radikon.
Hailing from a small town in southern Germany, Jonas moved to Berlin at a young age to pursue the dream of bringing his musical vision to the world stage. A decade later, he has performed at hundreds of locations on five continents, the world-renowned Burning Man and Fusion festivals and a cliff in the Norwegian fjords for a sensational back to back Cercle performance with Einmusik broadcasted to millions of viewers.
As a producer, Jonas is exceptionally prolific. His sophisticated, hardware-based style gives unusual and particular sounds a new life, morphing them into timeless dancefloor anthems filled with emotion and percussive energy. In 2018, Jonas co-founded electronic music imprint Radikon as a platform for like-minded artists. Based at his studio in the historic Funkhaus complex in Berlin, Radikon has become a collaborative epicentre with 20 critically acclaimed releases in its first two years alone.
Jonas' energetic live performance and singular brand of melodic house and techno has enthralled listeners and club-goers around the globe. As a producer, DJ, live act and label owner, he will remain a driving force in electronic music for years to come.
A message from the artist
"I've never recorded such a long studio mix before and since we all can't play parties anymore, it felt good to do it. The mix reflects an all-night-long set as I would play it right now, compressed into 3:33 hours. The evening starts with warm and smooth breakbeat tunes in the first half-hour and it's then followed by smooth deep house tracks. After that, we go straight into the night with a wild ride between Progressive House and Melodic Techno. Besides some new stuff from myself, I will also present upcoming releases from my label Radikon".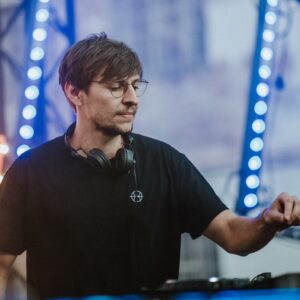 Cover Art – Jai Piccone