Having been part of the house music since its emergence in Australia, John first came to prominence by winning the Victorian leg of the DMC turntablist competition.
Moving from turntablist roots, he embraced house music from the start and was listed in DJ Mag's first-ever Top 100 DJ's list, going on to start a successful label, produce original music, have a nationwide dance music radio show in Australia. 
One of the founders of Vicious Recordings (Est. 1992), John is the GM of the label collective that first signed artists such as Madison Avenue, Rogue Traders, Peking Duk, Dirty South, a bunch of Avicii's first-ever recordings. Since 2017 the company also added Australian labels U-Genius Music & Valiant Records to the collective. John Course's compilation CD's have achieved over one Million copies sold. 
He is someone who has been extremely influential within both the global and Australian club scenes, and along with his 3:33 long mix for Flow, he has also taken the time to answer some questions…
How did you find the format and what type of vibe/energy were you trying to capture?
It was great to be asked for a longer mix by the Flow Music team. When I started DJing many years ago I would often play 5, 6 or even 7 hour sets regularly at clubs like Chasers, Chevron and even special extended sets at Onelove. My live stream is always 3 to 4 hours, but I play a lot of classics, as I didn't want to look too far back for most of this mix. I love new music, and it is a great chance to explore a longer set with mostly fresh sounds. I am not a DJ who is going to play a huge long set of underground music so it was important that the mix reflects my vibe, which is primarily house music, with a touch of disco and a slice of underground more tech house stuff. Hence, I lead off with what I would consider my house music style, being big vocals, jacking beats, lots of pianos. A few jams from my label Vicious in the first hour, before I slowly head into disco territory. I often play this slower disco and almost funk re-edits on my webcast shows, not to mention at Sky Disco (a Melbourne club that started last summer) and at the Melbourne sessions of Glitterbox in 2018 and 2019. I wanted to at least touch on that sound here in this mix, so it gets a bit slower and I play some things from some of my favourite disco and edit producers including Dimitri From Paris, Hotmood, Crazy P and JARC. It gains pace again as I head towards the last hour where I lift it into some of the deeper driving tech-house and progressive house stuff that I like, but again, not so many instrumentals and still a lot of vocal things. I love supporting Australian producers, and there are something like 19 tracks out of roughly 60 from Australian producers in there, so it's almost one-third homegrown tunes, and I feel it represents the strength of what is coming out of Australia. I hope you enjoy the journey when listening, and again, thanks for inviting me on to do this.
At what age did you first find your love for music, and when did you start DJing/producing music?
I literally grew up with music around me thanks to my mum and older sister always listening to music. I was into the breakdance movement, so heard lots of hip hop and music around that, and first saw DJ culture within the Beat Street movie… I was about 15 and started chopping up cassette recordings, then bought a mixer soon after.
In the early days when you won the DMC competition, did you think that becoming a full-time DJ was a legitimate long term career option?
I'm not sure any DJ's playing clubs really considered a long-term career when they start. I went from "this is fun, let's see where it goes". As my career grew, expectations grew with the scene. We started to see DJ's breaking into remixing and producing, which although had been happening for years with the likes of Francois Kevorkian and Jellybean it seemed very rare. Throughout the start of my DJ career, it became normal for club DJs to remix and produce, so the scope of what was possible started changing in front of our eyes.
What are some of your favourite venues or events that you have spent a lot of time at over the years, or that you feel were pivotal in the dance/house music movement in Melbourne?
In the early days, Chevron and Chasers were important players in the emerging house scene. Sanction at the Chevron was a massive Tuesday night with a student focus and therefore had a crowd with a forward-thinking music ideology. Friday at Chasers had a slight street edge with everything from hip hop, to house and techno, while Saturday there was house and techno. "Insanity" later at The Chevron on Saturday nights was an iconic club night and one of the first times I really saw a huge movement of people from the suburbs converge on an inner city venue. Another club which did that, all be it later on, was Onelove at The Prince, where I was resident from its opening to the closing night, and it was massively influential… it grew to have one off dates in all states of Australia and a permanent Sydney base, so was one of the first clubs to really bring the Melbourne and Sydney scene together, not to mention that Stereosonic grew out of that. QBar was another iconic venue I played at, being the resident Friday night DJ from the opening night… It had just the right amount of down and dirty club vibe, with a forward-thinking club music policy. Finally, the long standing 161 is another place where I have played regularly over the years, and is still a fantastic home to club music in Melbourne. Oh, and early days 21st Century in my home town of Frankston (an outer suburb of Melbourne) was another venue that catered to a student crowd on Thursday nights, and had a very forward-thinking music policy.
Obviously the venues you frequent have changed over the years, what are some of your favourites now? Do you think club culture has changed for better or for worse?
I think club culture is alive and well… People looking at it now, who say "it was better in my day" I think are missing the point that they are now older and look at it differently. They don't have the same intimate, 3 to 4 night a week relationship as they may have had 15 years ago with clubbing and club music, so they may not understand it as well and therefor dismiss It as not as good. I honestly feel the energy from gigs I play at venues like Electric, or 161 is as good as it has ever been. Of course, there are epic moments, such as a few of the Onelove nights that will remain in my all-time favourites, but I think overall the energy is comparable. Significant differences are mobile technology, which can get a little annoying and can stop people being in the moment, and of course the reach of music, because you don't need to go out every night to hear fresh new music, which thanks to the internet comes to you now.
Being the founder of successful record label Vicious vinyl now Vicious Recordings, tell us what inspired you to start the label? Do you have any tips for someone who wants to start a record label?
Andy Van (Madison Avenue /Vandalism / Super Disco Club) and myself started toying with remixing, samplers and studio stuff early on. Vicious was an extension of that mentality, and was started with Colin Daniels, another friend from Frankston. I'd suggest only start a label if it's your passion. There are many better ways to make money! We didn't have many options to get underground club music released in 1992, so that's why the label started. Now, there are labels everywhere, so there's no point starting one just to put music out, because you can do that in many, many ways. You have to have a vision of why you want a label and a passion, and commitment to it, regardless of the financial return. What does having your own label do for your music that not having one means you miss out? A proper label is not just a logo on Beatport… It's marketing, promotion, the business of music with royalties, contracts, rights, licensing, registration and most importantly, it's A&R. You have to be willing to develop artists your sign, and be committed to making them better.
I understand Vicious was the first label to sign Aviici, tell us a bit more about how you discovered him?
Andy Van was touring Europe under his Vandalism project, and had a gig in Sweden, for the club that Ash Pounari promoted. Ash was Avicii's manager, and wanted Andy to hear music from his young artist, who at the time was only 18. Andy liked what he heard, and sent music links back while still overseas. From there, we were both on the same page, and we got a deal on the table, which was finalised fairly quickly with Ash. We released 9 Avicii singles during his time with us, including the Beatport number 1 "My Feelings For You" with Sebastien Drums. Avicii's first single after his deal with Vicious was "Levels" which was released globally through Universal music. Avicii's melodic hooks can be heard in his early releases with Vicious and it was a very sad day when he passed away.
Do you think some of the motivations around wanting to become a DJ have changed since you came up? What are your thoughts on this?
There was no real "wow, you're the DJ" kind of mentality when I started… I started because I loved it and had no idea what opportunities would develop as my career developed. Now, everybody knows how massive and successful a DJ can be, but very rarely without being a producer as well. In recent years, I can't think of any pure DJ that has broken through without also making music. So, while a few people may want to play some music from time to time, I doubt there are that many people who start DJing, and aspire to only play other people's music. Aspirations for most DJ's go beyond playing other people's music and most young up and coming artists make music as well. It's the logical link. There will always be people who look at Dom Dolla, or Fisher and see then flying around the world playing epic gigs and want to do that, but there is so much more. Both those careers have taken years and years to build. So, while many aspire to be that, I think a lot of people are not willing to do the hard work, the grind, the small gigs, for little money, to build their career. That's why I feel lots of young DJ's come and go. They play for a few years for fun, to party, to "live" the DJ life for a few years, but they realise to break through it's very hard. Many don't have the commitment or the skills to develop a producer career. You can be a great DJ without producing, but in today's market, producing and remixing is how you build your profile and brand, so it's hard to travel beyond your local area without releases and remixes to spread your story. It's hard to compete and break through as simply a DJ in 2021, so that is a huge difference.
Ministry of Sound was & is such a prolific platform for electronic music, tell us a bit more about how you got involved with them?
Ministry was always looking to evolve their compilations and associated DJs, plus Andy Van was mixing the MOS compilations and he was concentrating on his Madison Avenue project, so those two things opened up an opportunity for me to mix the compilations. It was a simple as that really. The first comps I mixed were for my own Vicious label, then I did a Onelove compilation before signing on with Ministry. The compilations were the gateway into dance music in Australia for so many music buyers, so it was a great opportunity, and my period with the compilations was also when dance music really broke through here. There's been over 1 million Ministry CD's sold with a disc mixed by me, so I'm privileged and proud to be associated with taking dance music to a much bigger audience.
I understand this was at a similar time to your radio show on Nova and your time at One Love. This must have been massive for you? Tell us bit more about this period in your life?
Yeah, from a personal perspective it was a bit tricky and great at the same time. I owned Vicious, was a resident at Onelove, mixed CD's for Ministry OF Sound and had a national radio show on Nova. The best advice I could give around this, is to be clear with everyone to avoid conflicts. As an example, I told Ministry I could not play a Ministry event in Melbourne on a Saturday night, because I had a deal with One Love. Then a few years later, Onelove moved to Sydney as well, so when a Ministry launch come up on a Saturday in Sydney, I told Onelove, "hey, I'll be playing the MOS event in Sydney on a Saturday". Onelove didn't exist in Sydney when I did the deal with Ministry, so I was always totally straight and transparent with my dealings. It was and still is an important lesson. I'm sure MOS got annoyed when I didn't play at a Melbourne launch, but likewise, they appreciated my commitments around plans in Sydney, and vice-a-versa, Onelove accepted my Sydney launches for Ministry being at different clubs from theirs. Nova was an awesome platform to spread dance music to a huge audience. We recorded the show during the week, and it aired Saturday nights at 7pm. Nova changed their music policy, and the show was axed after 7 years, but it was a great period for me, and for the spread of club and dance music in Australia.
We have really enjoyed your live streams over the last few months, it seems making people happy at home during this difficult time is really something you love to do?
The broadcast started because I had a huge gig in Melbourne (Reminisce) cancelled 5 days before it was meant to happen. I decided I'd play a set from home anyway, because people were locked down, and couldn't attend the cancelled event… The broadcast was a massive moment in the connection between myself, an online audience, and most importantly, music. Now I have done over 50 Saturday night live broadcasts since March 2020, and I never cease to be amazed by the feedback, interaction in the chat room, and connection that music brings. I've had so many people thank me for providing a release every Saturday night, and the reach has been humbling… London, Canada, USA, France, Italy, Greece, Holland, NZ, and every corner of Australia has been reached, and has given me positive vibes by way of social messages and chat interaction. So, it's been rewarding for my soul, and also for my career. I've connected with a bigger audience, and I've been able to continue playing music, which is a mental relief for me that provides personal joy, regardless of who is listening.
What is one track that never gets old for you no matter how many times you hear/play it?
"Lets Start The Dance" by Bohannon has NEVER left my record box, CD box and now my USB. Released in 1978, it's one of my all-time favourites. There have been so many great releases over my career, but that's one that jumps to my mind.
Outside of DJing & running your label, how do you spend your time?
I love catching up with my friends, hanging with my wife, and checking out eating spots. I follow the Tigers in the AFL intently, which has been pretty good the last 5 years, and I get out on the pushbike or for a snowboard when possible. We love travelling, and miss that thanks to Covid. I also have a few other business things that I have developed over the past three or four years, which take up some of my time.
Thanks for taking the time to talk with us today, do you have a message to fans or anything else you would like to discuss before we finish?
Thanks for inviting me on your platform. Everyone out there, keep an eye out for new music from me, and if you like my music, mix and vibe, then please follow me on my socials and Spotify. Stay safe, and see you on the dance floor 😊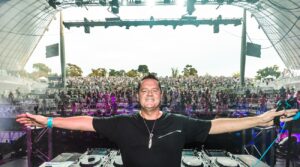 Artwork: Jai Piccone