Flow Sessions presents a disco tinged mix of cosmic house from German duo The Robot Scientists
Flow Sessions strives to support musicians, producers and DJ's in good times and bad. With this is mind we have commissioned DJs around the world to contribute mixes to our new series 'Flow sessions'. We thought it would be appropriate to show some support for our future performers now when it's needed most.
A message from the artist
"We were so happy to be able to contribute to the great The Flow Sessions series! As DJs, record collectors and label owners, our history as manic music lovers dates back to the mid 1980s when extended New Wave dance versions conquered the clubs – and our hearts. Thus, "The Flow" we express with our mix is our own journey through time, through five decades, and the music we love. As Kraftwerk and Italo Disco are huge influences for us, you will notice references to them more than once. It is also a fact that in the late 80s and 90s, we never were real Techno or Vocal House boys – somehow we were more into New Beat, Electro, Punk, Psychedelic Rock and Indie Dance in all those years before the "Space" Disco revival started in 2005 roughly – which is 100% our cup of tea as you will hear as well. We were always fascinated with the ideas around how we all are robots to some extent, how cool space flight is and what probably exists beyond our current states of consciousness. As we have grown up in a highly industrialised coal mining and steelworks area, dark dystopian landscapes moulded our personalities just as the first euphoric dance club visits in the 80s. We founded The Robot Scientists in 2007 and have since played in many places like Berlin, Beirut or Barcelona. we released more than 400 artists on Emerald & Doreen and made more than 70 mixtapes – but this is our most personal, most complete and most cosmic one– an outline of the music that has ever been most important to us and which we love to play if we have at least 3, (or better 5 or 6) hours time. It features some of our all-time favorites and many new tracks too which have just been released. On our 55-track cosmic journey, we travel from spaced-out 90s Downbeat, some of Andrew Weatherall's Leftfield favorites, psychedelic Indie dance, etheric Synthpop, Electro-Disco- and Italo-infused trancy House, lo-fi Afro-Disco, Post-Punk-inspired Dark Disco, trippy Space Disco, smash-hitty Disco House, Cosmic-Balearic Disco to classic House anthems, listen to the astronauts landing on the moon, military whistleblowers talking about how many alien species they have catalogued in the 1960s already, but more than anything it is a journey into love and unknown worlds for you to enjoy."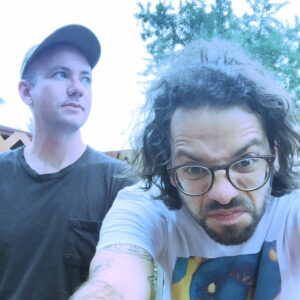 The Robot Scientists.
Soundcloud: @therobotscientists
Facebook: facebook.com/TheRobotScientists/
YouTube: youtube.com/therobotscientists
Mixcloud: mixcloud.com/therobotscientists/
Spotify: open.spotify.com/artist/1BZcRcWcgFdyEoDBn9VRar
Instagram: instagram.com/markusdschneider/
Cover art: Jai Piccone