Flow Sessions welcomes Mimi Love who is a resident at Berlin's Katerblau and describes the tracks she plays in her epic DJ sets as moods, not genres.
Flow Sessions strives to support musicians, producers and DJ's in good times and bad. With this is mind we have commissioned DJs around the world to contribute mixes to our new series 'Flow sessions'. We thought it would be appropriate to show some support for our future performers now when it's needed most.
A message from the artist
"After so many months of not having a proper dance floor, being close to all the dancers and living the familiar routine of playing every weekend it was a special journey to create a three an a half hours mix for me. Within the last year I realised more than ever that electronic music and the culture that comes with it is one of the most appreciated parts of my life and I guess it was like that for many people, too. This mix is a reflection of that. I wanted to create a mix that includes all of the different variations of four to the floor music I like. My intension was to have a groovy and drifting but also smooth and diverse vibe. I was digging deep in my music collection to include some of my old favourite tracks combined with some new stuff. I wanted to have a slow dance atmosphere with a soft and light touch…a flowing space to dive into. – Mimi"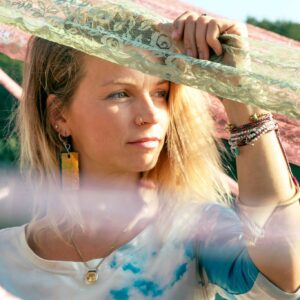 Mimi Love.
Soundcloud: @spreedelay
Instagram: instagram.com/mimi_love_berlin/
Facebook: facebook.com/djmimilove
– Artwork by Jai Piccone –