Flow Sessions presents a mystic mix from Laroz whose trippy style of house has been released by labels including Sol Selectas and Diynamic.
Flow Sessions strives to support musicians, producers and DJ's in good times and bad. With this is mind we have commissioned DJs around the world to contribute mixes to our new series 'Flow sessions'. We thought it would be appropriate to show some support for our future performers now when it's needed most.
Laroz (Camel Rider) is a DJ & producer based in Tel-Aviv, with more than 30 years of experience as a producer. Since the beginning of his musical journey, he has collaborated with countless iconic artists on a diversity of popular genres and has been cultivating his personal underground electronic project and his imprints; Camel Riders Records and Mau House Music.
Laroz's music is constantly gaining lots of respect by leading figures in the electronic landscape, thanks to his exquisite productions and superior sound signature. From Solomun's 'Dynamic Music' to Sabo's 'Sol Selectas', Laroz manages to deliver continually electronic bangers, which are played by the world's leading DJ's and promising talents. Enjoy the ride!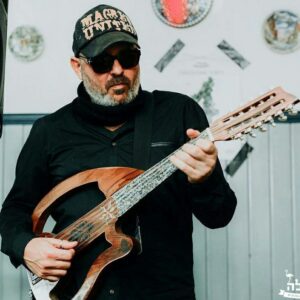 Laroz.
Facebook: www.facebook.com/LarozCamelRider/
Soundcloud: @larozcamelrider
YouTube: bit.ly/SubscribeLaroz
Beatport: www.beatport.com/artist/laroz/16829
InstaGram: www.instagram.com/larozmusic/
Spotify: open.spotify.com/artist/37VopouYOyLqeH34jEZ7W9
Cover art: Jai Piccone