Flow Sessions curator Deep Ghosh steps out from behind the curtain to take the spotlight to deliver s stunning mix of house with majestic melodies.
Flow Sessions strives to support musicians, producers and DJ's in good times and bad. With this is mind we have commissioned DJs around the world to contribute mixes to our new series 'Flow sessions'. We thought it would be appropriate to show some support for our future performers now when it's needed most.
A message from the artist
"3 years ago, I turned 33, and found myself at a crossroads in life. During a period of self-reflection, I found myself fascinated watching a gently swinging pendulum clock in an observatory demonstrate the passage of time and knock over markers demonstrating the rotation of the Earth. Watching it in motion, almost imperceptibly, made me appreciate how the forces of the universe are in perpetual motion, spinning, ebbing and flowing through everything. As an engineer, I should have been content marveling at this simple science experiment. I kept pondering though and got lost in thought beyond science and mechanics: lost in thoughts of human connection, thoughts of where the journey on this spinning blue rock could lead, thoughts of what I wanted to do with my time here, and with it setting some imperceptible intentions while the pendulum kept swinging.
3 years later, I can bear witness to the power of manifestation of true intentions. One of those imperceptible (and at the time probably improbable) intentions was to devote more time and energy into the pursuit of music, and creative, artistic pursuits as a balance to my mechanical and rational mind. I am amazed and humbled and excited by the path I set foot on 3 years ago, and especially grateful that I found myself a global soul tribe with whom I look forward to create, grow, laugh, dance and spread love through genuine connection. One key part of this global soul tribe is this beautiful Flow family. To Corr and Yelena who brought me into this project and empower me greatly in my creative pursuits and help me wield my powers of connection for good: I'm humbled and grateful for having you, and cannot wait to see where we end up in the next 3 years.
This mix sums up what Flow Sessions is all about to me: letting the music and beats guide the journey, going with the flow, and not least of all showcasing the immensely talented artists whose music has not only inspired and influenced my musical tastes over the last 3 years but also includes the music of my adolescence, the music of my ancestors, and an unabashed love of emotional vocal melodies in juxtaposition to deeper ends of the sonic spectrum. I hope you enjoy the journey, and the imperceptible pondering that may result over the 3hrs 33min."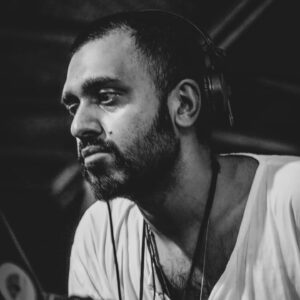 Deep Ghosh.
SoundCloud @deep_schismic
Facebook: facebook.com/deep.schismic
Instagram: instagram.com/deep_schismic
Cover Art – Jai Piccone