Flow Sessions welcomes composer and multi-instrumentalist Giorgia Angiuli from Italy, who has headlined many clubs with her melodic style, and released music on labels such as Stil Vor Talent and Global Underground.
Flow Sessions strives to support musicians, producers and DJ's in good times and bad. With this is mind we have commissioned DJs around the world to contribute mixes to our new series 'Flow sessions'. We thought it would be appropriate to show some support for our future performers now when it's needed most.
A message from the artist:
"I am a big fan of melodies and I recorded this podcast from my studio, dreaming about an open air party under the sun. Techno melodic, progressive, and a bit of 80's influence, including are also some of my own releases. I hope you will like it.
In the words of Plutarch: Music, to create harmony, must investigate discord."
Tracklist:
01 Giorgia Angiuli, CIOZ – United (Hoerakustik Remix)
02 Sobek – Geiling Agent
03 Giorgia Angiuli – Trust the Hours
04 Giorgia Angiuli (feat. Irene Ermolli) – The Only Way
05 Ivan Masa – Nighthawks 02
06 Zombies in Miami – The End of the Beginning
07 Rodriguez Jr. – Bliss
08 Quivver – Taking Over (Giorgia Angiuli Remix)
09 Alfre – Biosphere
10 Giorgia Angiuli, CIOZ- United (Squ4re Remix)
11 Boris Brejcha – Farbenfrohe Stadt (Ann Clue Remix)
12 Magdagelan – Visions
13 Petar Dundov, Gregor Tresher – Sirens
14 John Digweed, Nick Muir – Bilder (Zoo Brazil Remix)
15 Alex Mine – Numbers
16 Echonomist – Metamorphosis
17 Shall Ocin – Destination Mars
18 DJ Hell – Bostich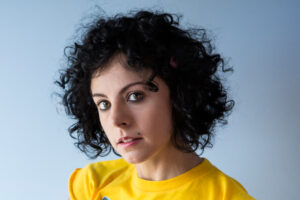 Giorgia Angiuli.
instagram.com/giorgia_angiuli
facebook.com/giorgia.angiuli
Artwork – Jai Piccone