Dansor is fast cementing herself as one of Holland's hotly tipped electronic music artists.
Founder of Comport Records, the Hungarian-born producer has released on the likes of Tulipa and Nervous, and is also the former winner of Pete Tong's Bedroom Bedlam and Dave Clarke's ADE Demolition panel. An established live act as well as a DJ, Dansor's performances have graced Sziget Festival, Ozora Festival and Balaton Sound, not to mention an inventive appearance at ADE where she performed her debut album 'Theory Of Love' live alongside jazz musicians.
Born and raised in Budapest, Hungary, she grew up listening to Duran Duran, Depeche Mode and Kraftwerk before moving to the Netherlands in 1997 – a switch that would play a significant role in intensifying her relationship with all things house and techno. Throwing herself into the scene, she found a home in the work of electronic acts such as Art Of Noise, Leftfield, Front 242 and clubs such as "Feketelyuk" (Black Hole) and "Zöldség-Gyümölcs" (Fruits and Vegetables), not to mention the acid house parties that sprung up during the time.
She is known for having an avant-garde approach to the tracks she makes. Unsurprisingly, then, her music has been picked up by a host of seminal worldly imprints including Little Mountain, This Is Recordings, Nervous Records and Tulipa. This is replicated in a similar vogue via her Comport Records that also plays host to her intricate sound by incorporating elements from house to techno to dub, jazz/funk, italo disco, new wave and indie.
Along with providing this exclusive podcast, she also took the time to answer a few questions…
Thanks for recording us a podcast, could you describe the vibe/energy were you trying to capture with your track selection? 
Thanks, guys for the invitation! I really love to 'go with the flow' depending on my mood and not stick to one specific genre or style. As with all my sets – it has a deep, emotional and sensitive vibe, but it's also psychedelic, playful, ethnic and sometimes raw.
What's your favourite track in the mix, and did you play any of your own music? 
Not easy to pick one, but 'Onur Ozman & Lazarusman – It Hurts (Audio Junkies Remix)' feels very relevant & special for me personally.
Yes, a couple of my own productions are in here as well – my latest remix for 'Juanma Sanchez – Tiempo de Vida' – just out on Sprinkler, also my remix for 'Equal Sidez – Serpens' – released on Ritter Butzke Studio and an unreleased original called 'Passion'.
Talking of your own tracks, what's new in your release schedule, as we would love to know more about your new music? 
I'm focusing on testing and tweaking my new live set for the Utopia festival this Friday, Landjuweel and ADE later this year. I'm also working on some new originals and another remix for Curiosity Music is also in the pipeline.
What do you think would be the perfect setting for someone to listen to your mix, and why do you think that would be the best place? 
When you would love to enjoy a variety of deeper emotional states, whether it be alone or with your best friends… I think this could work both as an inner and outer journey.
Who is your personal favourite DJ, and how have they influenced your own style? 
Difficult one in the current situation, as I haven't heard anyone playing live for a long time. Production-wise definitely influenced by the works of DJ Hell, Basti Grub, Maceo Plex, Dixon & Âme, Damian Lazarus, Thomas Gandey, Trikk, Whitesquare, Adam Port, Squire, Jenia Tarsol just to name a very few.
Do you have a message for your fans or anything else you want to add? 
Stay true to yourself, even in difficult times. I hope you will enjoy this podcast's journey until we can dance together again!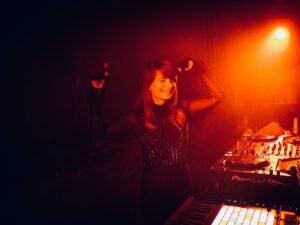 COVER ART – JAI PICCONE