Flow Sessions is proud to present a mix from the legendary melodic house duo D-Nox & Beckers.
Born out of a shared vision of musical inspiration, the duo of D-Nox & Beckers has, over the last 15 years, firmly entrenched itself into the landscape of the worldwide electronic community. Working as a perfect fusion of studio expertise and an impeccable dancefloor touch, this creative combination of Christian "D-Nox" Wedekind and Frank Beckers has become an unfailing source of massive grooves which have successfully infected (infiltrated?) all corners of the globe. With more than a quarter-century of combined DJing and producing experience between them, D-Nox & Beckers effectively merge a seasoned musical grounding with a dynamic creative spark that never fails in its ability to adapt to the ever-changing vista of electronic dance music.
A message from the artist
"3hrs33mins full of music, a DJ mix made with love and dedication, a trip through our world of sound, a journey that shows what we play when we wanna make you fly away. This mix reflects what we would be playing for you on an extended DJ set at some of your favourite open air festivals such as Ozora or Rainbow Serpent. We want to give you a good time out there where you can close your eyes and fly away. Or just entertain you on a long car ride or your private home session with friends. We hope you will enjoy this mix as much as we do."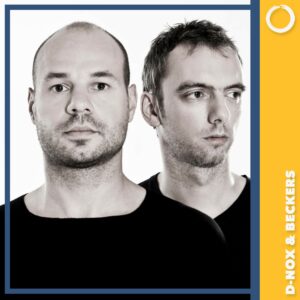 D-Nox & Beckers.
Cover art: Jai Piccone